Within the last year or two, I was able to finish my first two retaining walls, and I just love how these turned out. In this tutorial, I will show you how to build a simple retaining wall. My first project was a fire pit and a patio combination and the second involved replacing a rotting wood retaining wall. Stone retaining walls really do add a touch of elegance to your outdoor landscape projects.
Retaining walls come in real handy when your yard has sloping terrain. Or when you want to create an attractive boarder around something. They can also be used for making steps or terracing your sloping yard so you can plant shrubs or flowers. The projects I'm about to show you were very simple and the walls were not greater than 1.5 feet. For much taller walls(over 3 feet), you need to consult with a builder, an engineer, or a professional, especially if you have any safety concerns. It's one thing if people will be walking on the surface held back by the retaining wall, but it's another thing if you will be parking a car or piece of heavy equipment.
Building retaining walls does involve some manual labor. Make sure you have a strong back and are physically able to handle heavy blocks. Consult with a doctor if you have any physical limitations that might hold you back. I also recommend wearing gloves and safety glasses. Wear a lifting belt and don't forget to lift with your legs.
Consult with your local building inspector or code authority to make sure you comply with any applicable rules or regulations. And DON'T forget to call your underground utilities locator service before you excavate any ground.
What I'm about to show you is a dry, non-mortar method for building a retaining wall. I'll be using retaining wall blocks and no concrete will be used.
I bought my blocks and all the supporting materials from Home Depot. But shop around at other home improvement stores to get the best price. Another great resource that helped me was a book by Black & Decker called The Complete Guide to Concrete & Masonry
. You can purchase at Amazon by the link I provided.
In general, you will need the following tools and materials:
Retaining wall blocks (pick the kind to suit your needs)
Cap stones – These will be the top or finished layer.
Landscape/Block adhesive – Amount depends on the size of your retaining wall.
Metal tamp
Work gloves
Mattock & shovel
Level
Rubber mallet
5 lb hammer
Safety glasses
Rebar (optional)
Bags of crush / run
I wish I could be more specific on the amounts of materials you'll need, but it depends very much on the size and scope of your project. The way I estimated my material was to draw the project out on paper first. Then I calculated the dimensions of my project. I visited the store and decided on the blocks I wanted to use. Using the dimensions of the blocks, I matched them up with the dimensions of my project. This method got me very close. I made maybe one or two more trips back to the store, but that was because I was short a block or two.
Check with the store and see if any literature or instructions come with the retaining wall blocks you purchase. If so, then I recommend following those instructions over mine, since it goes with the particular blocks you will be installing. The store-provided instructions may also show you how to estimate the amount of blocks needed for your project size.
One thing I know for sure — I saved thousands of dollars doing these projects my self.
Below, I will show you a pictorial of what I did on a couple of projects. Again, the main point of this tutorial is to give you a general idea of the steps you'll need to take and the materials used. Your project can and probably will vary some from mine. And this will be based on the specific type of blocks you purchase.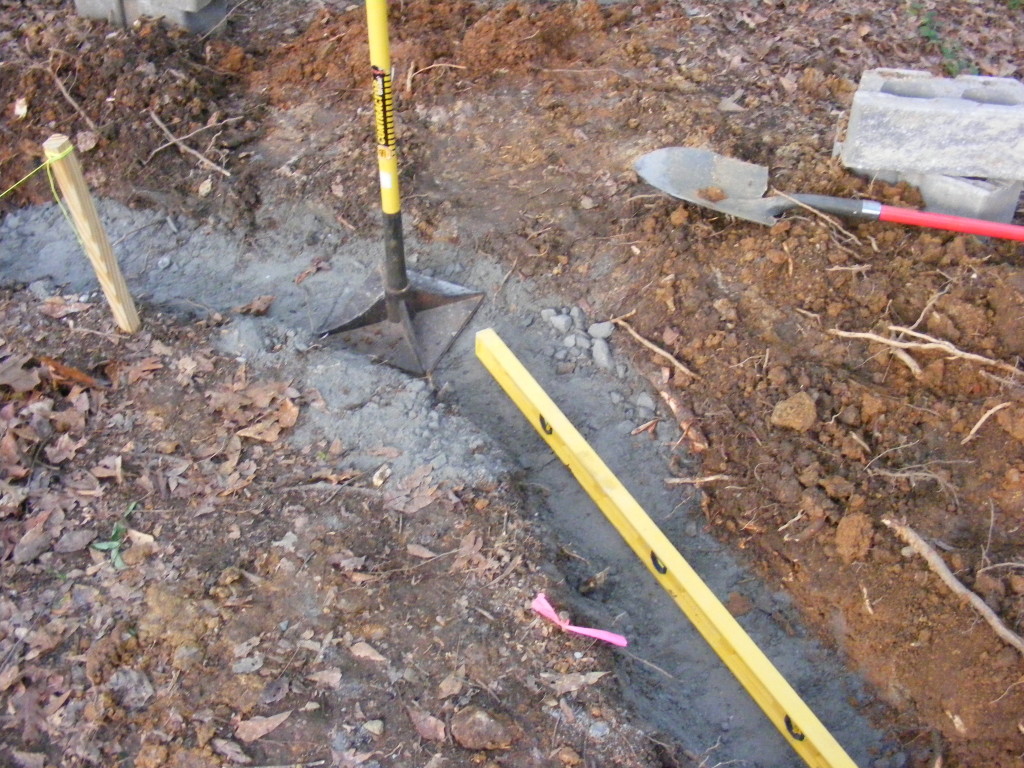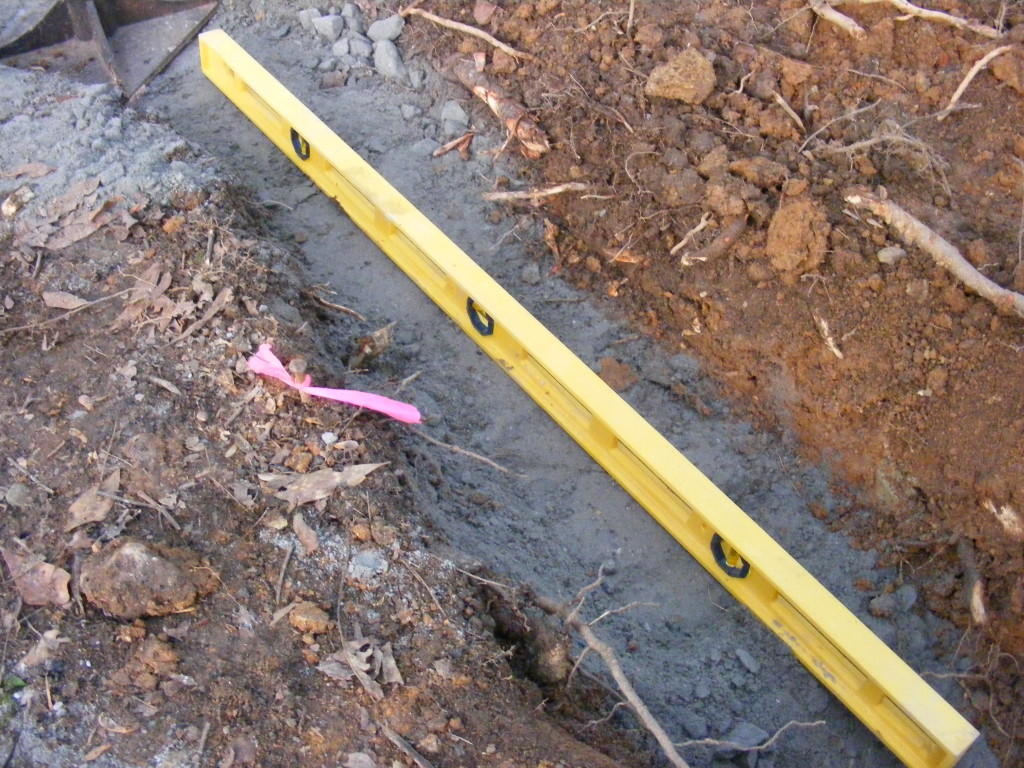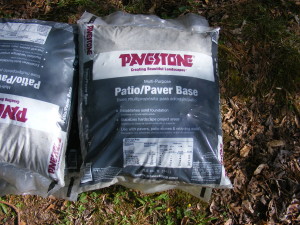 The pictures above show how I started the retaining wall for my fire pit/patio combo. I started out by digging a ditch 6 inches below my block height which was 6 inches. So the total ditch depth was about 12 inches. I then filled in crush/run and compacted that first 6 inches as my base. I dug the ditch about 6 to 8 inches wider than the block width. I placed the blocks so the outward face butted up next to the ditch wall. That left about a 6 inch gravel buffer behind my blocks to help with drainage. You can get the crush/run in bags from your home improvement store. The ones I bought say patio/paver base, but don't get this confused with sand paver base. Crush/run is fine-medium gravel material.
The depth and extent of the footer/foundation may vary depending on the region you live in, the frost line, the application of your retaining wall, and/or any code requirements that may apply. Some of this may not be as critical since we are using a dry/non-mortar method, but it doesn't hurt to check.
The mattock is my goto tool for digging. It's very handy because one side will chop tree roots and the other will help dig a nice trench. Make sure you call your underground utility locate service before you dig. I did this for my project and had to carefully dig around my cable TV wire.
I used the metal tamp to get my crush/run layer nice and compact. I then took a long level to make sure the compacted crush/run was level. It's VERY, VERY important that you get this first layer of blocks as level as possible. Obviously, they are the foundation for the whole wall.
If you have the blocks with the tab or flange, some books recommend turning that first layer of blocks upside down with the flange facing out. I did't do that for mine. But my first layer of blocks were submerged so the block's top surface was almost flush with the undisturbed ground level.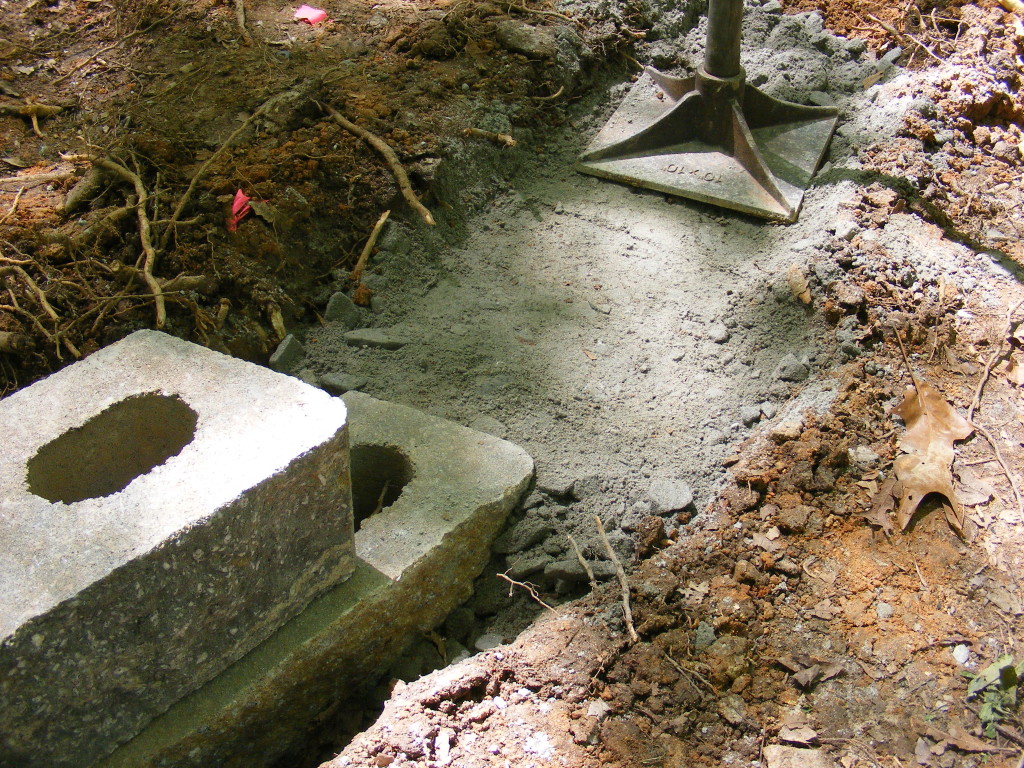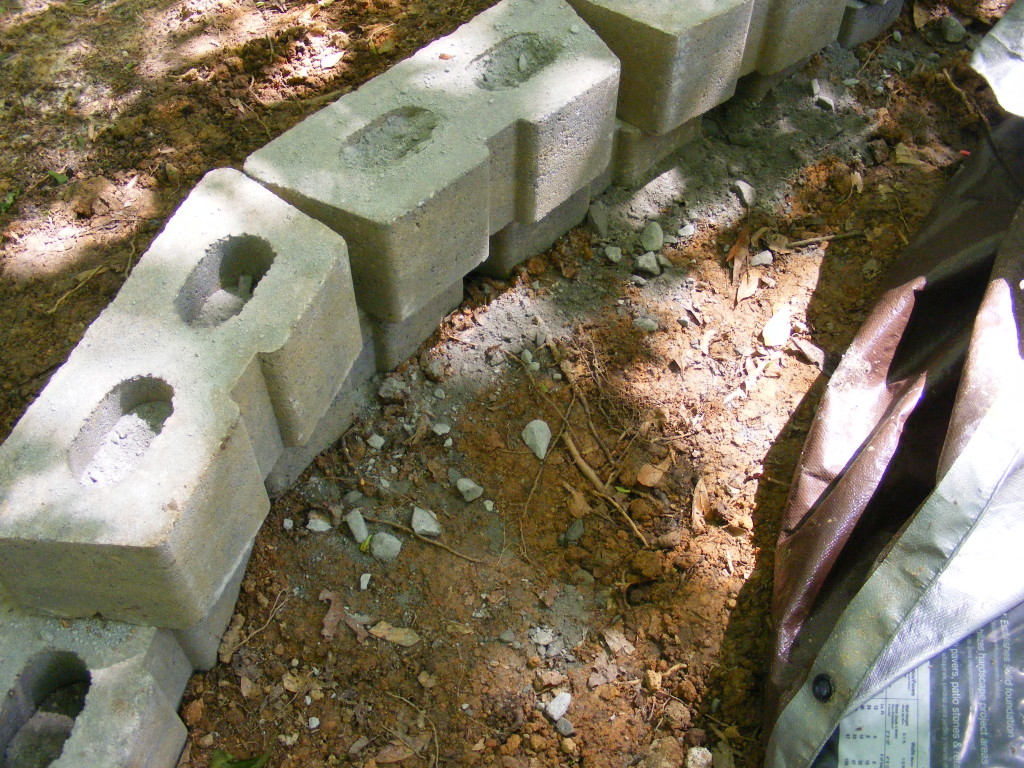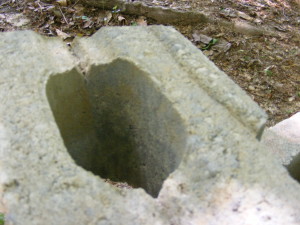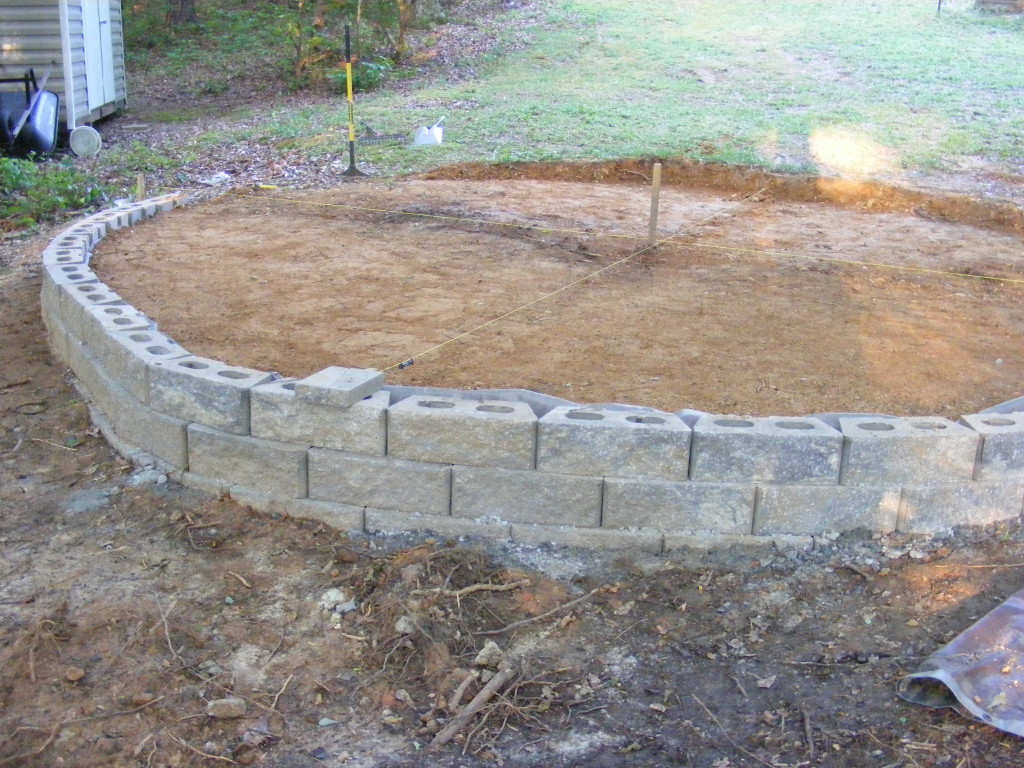 Once I had my crush/run foundation compacted and level, I began placing my first layer of blocks. You want to take your time with this first layer. Make sure each block is level in both directions. And then check to make sure each block's top surface is flush with the adjacent blocks.
As soon as I got the first layer in place, the whole project became extremely easy. I just started laying down the next layer of blocks. The retaining blocks I used have a tab running along the edge of the back side. The tab will catch or lock behind the blocks below it. As you add layers, the blocks will take on a steep stair-step slope formation. You also want to alternate the position of each layer, so the block in the top position is centered above where two blocks butt together below (see pics to understand what I'm describing)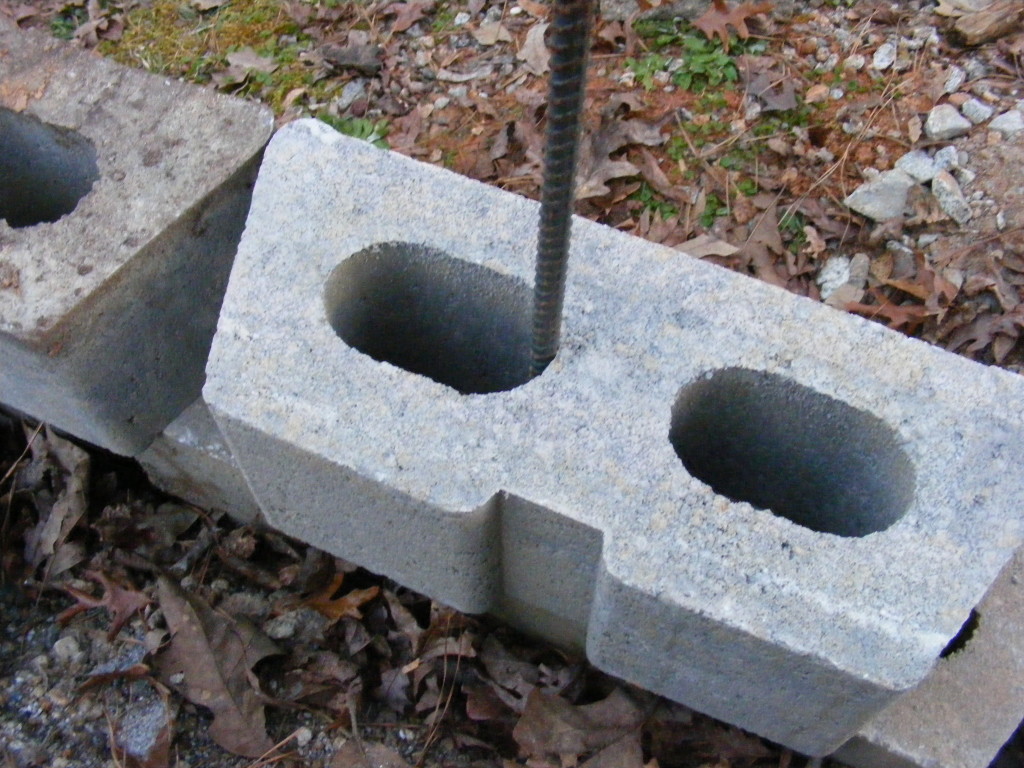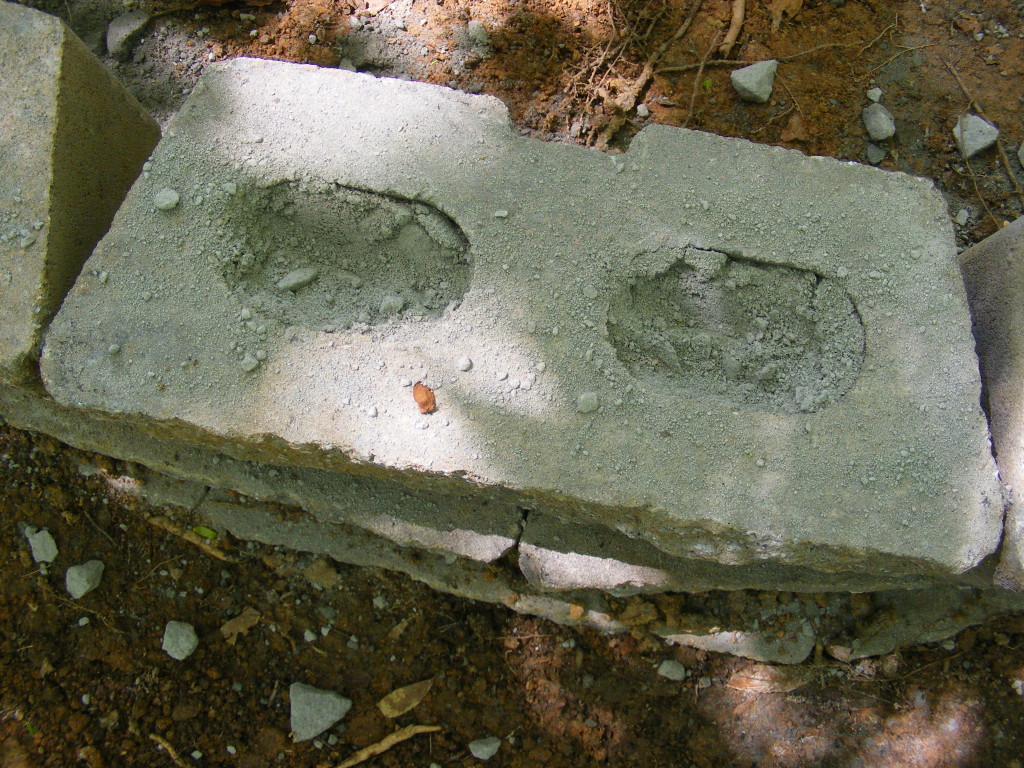 My block walls are only about 3 to 4 blocks high, but I elected to drive a few 4 foot rebars through every other block. A sledge hammer or 5 pound hammer comes in handy for driving the rebar. Again, make sure you have called your underground utility locate service. Adding the rebar is probably way beyond necessary, but I tend to overbuild things. I also went ahead and filled in the block holes with crush/run and tamped it down in there.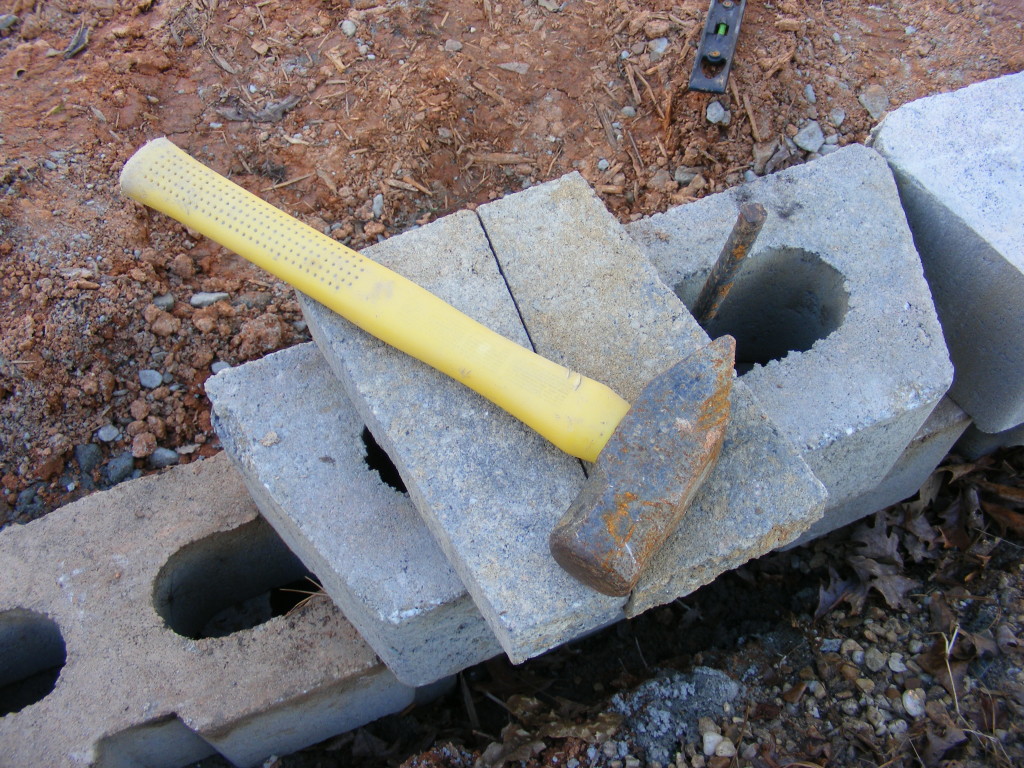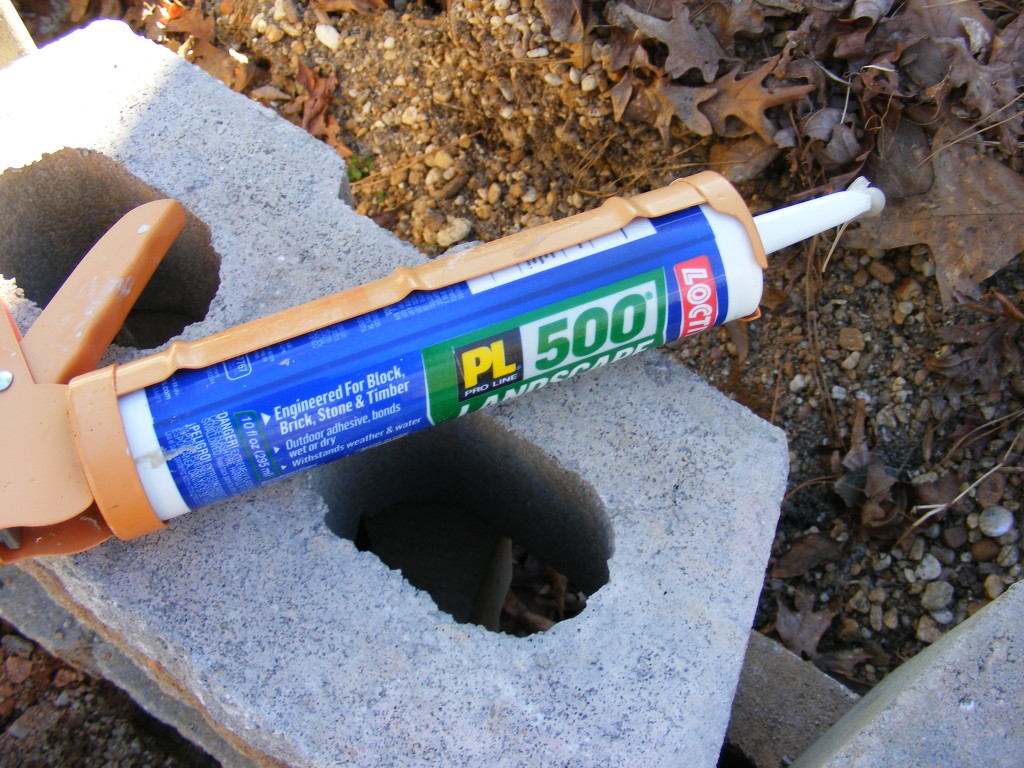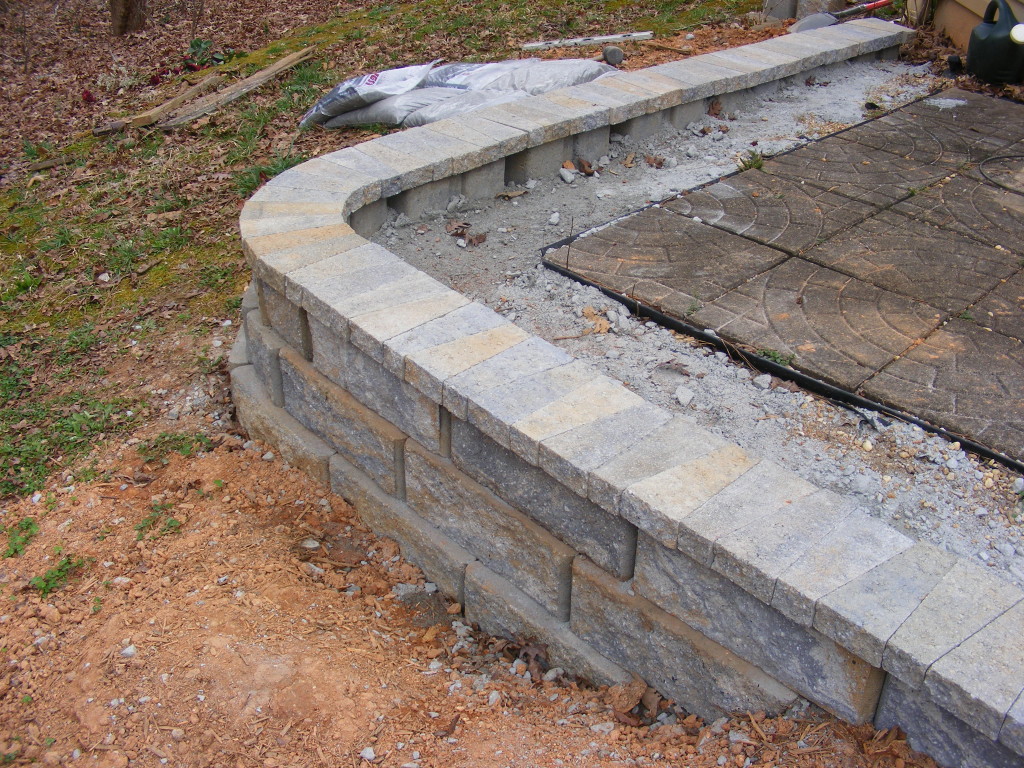 Once I completed my wall, I placed a layer of silt-fence material along the inside surface of the retaining wall. Then I filled in with dirt and more crush/run for the patio surface. The silt fence material will keep mud from seeping through my block wall and ruining the appearance.
The last thing left is to add a finishing layer of cap stones. This layer will cover the holes of the blocks and give the wall a nice appearance. For this layer, I used a caulk gun and several tubes of block adhesive. I suggest laying the cap stone blocks down like you want them before glueing. You can get a little creative here with how you arrange the cap stones.
Make sure the surface is clean and use a liberal amount of adhesive. Using my body weight, I pressed down on these capstones to help the glue get better coverage. It takes a while for the glue to dry. Read the instructions that come with your adhesive.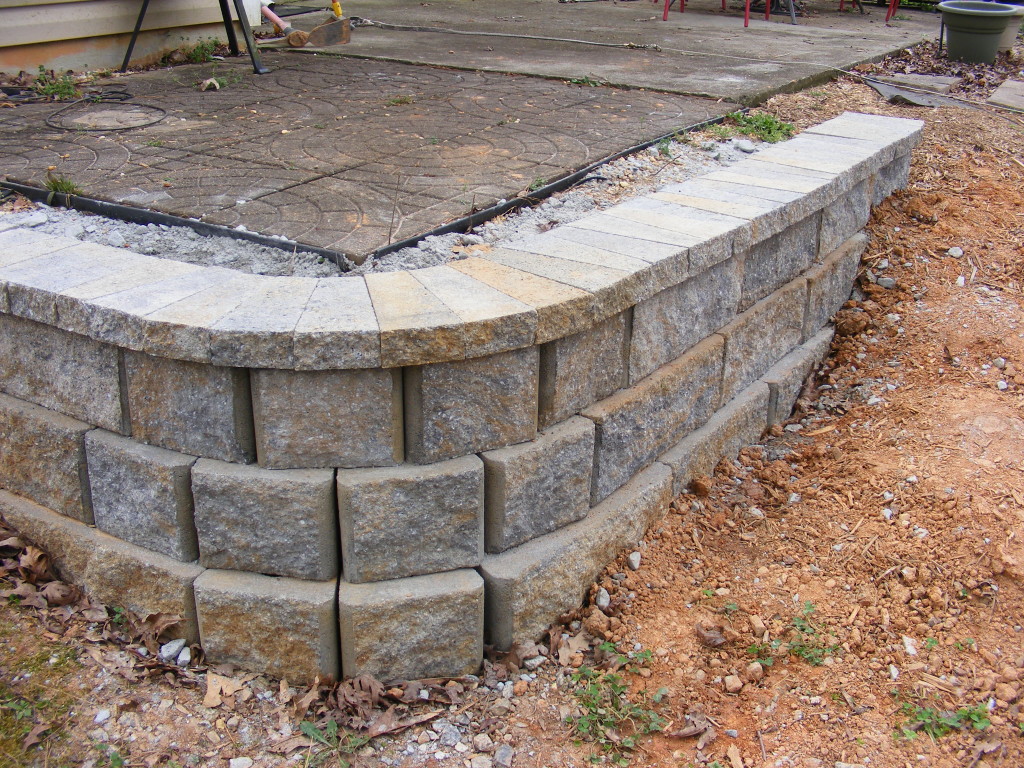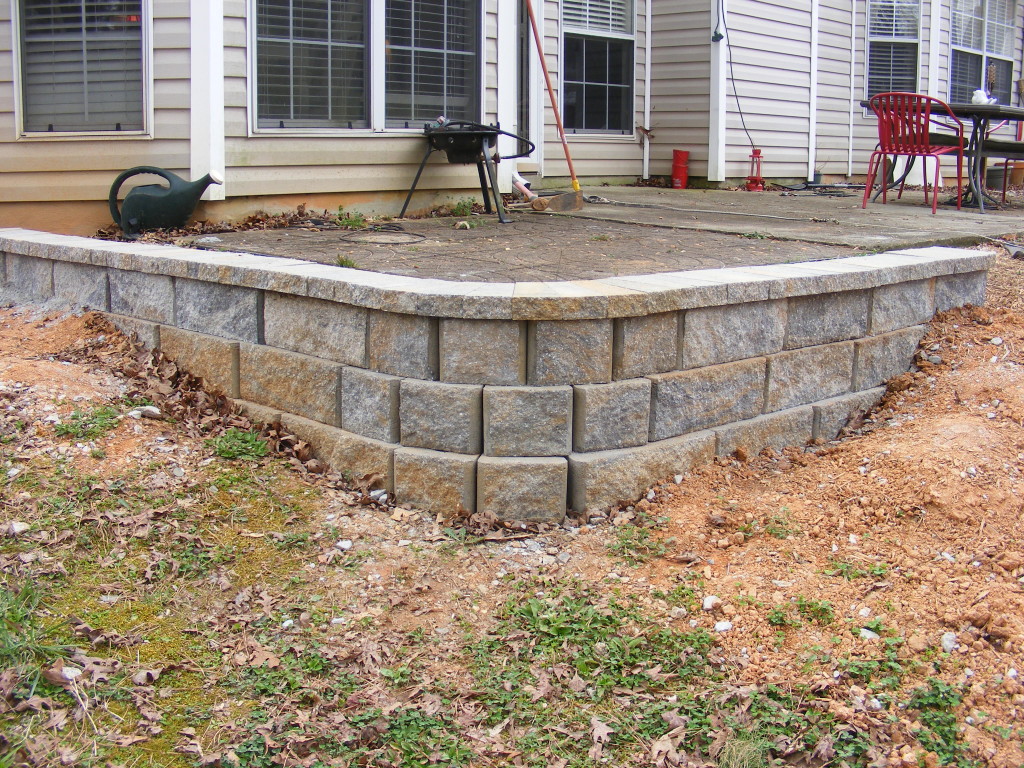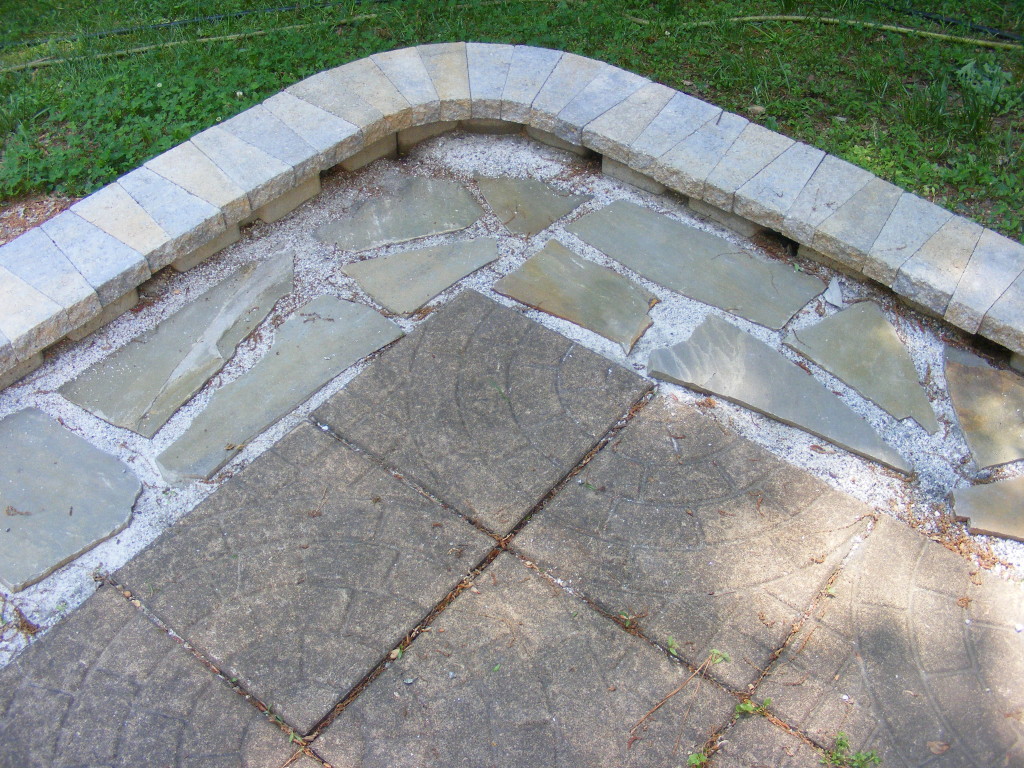 Above are some pictures of my last retaining wall project. In this case, my old wooden retaining wall was beginning to break apart. So I took up the wooden wall, and built a new retaining block wall around it.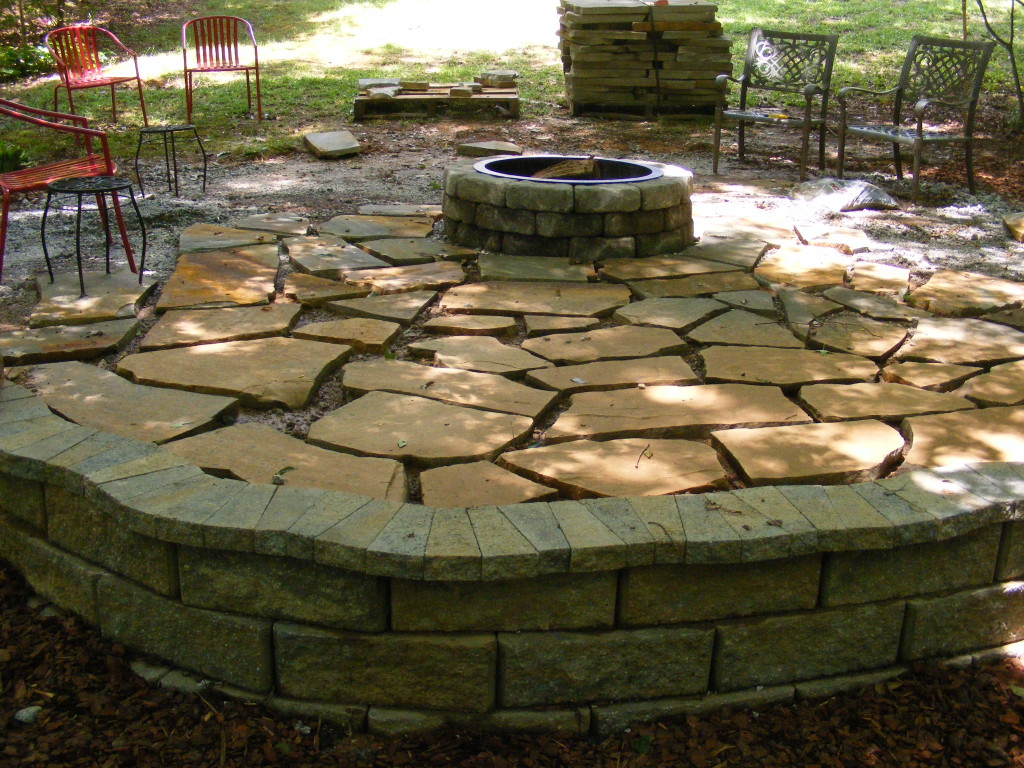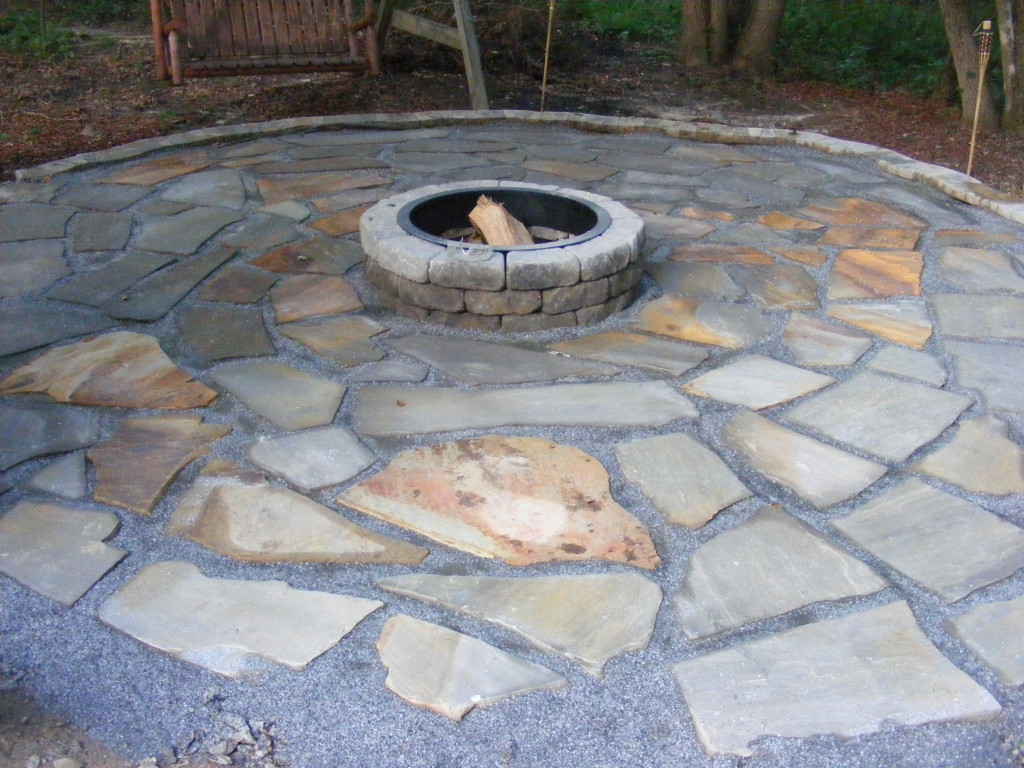 And here are a few pictures of my finished fire pit and flagstone patio. Check out my tutorials on the fire pit and the flagstone patio.
I hope you have enjoyed this tutorial. Please be sure to subscribe to my blog (see sidebar) to get free updates or follow me on my Facebook page. Feel free to comment or ask questions.
Also, don't forget the great resource book I mentioned earlier.