This past spring my wife and I got rid of the family trampoline. A little sad, but the kids are in college now. We were left with this big circular void in our backyard. So, I said, "I got it — let's build a patio and fire pit before the Martians think this is a new landing site." My wife loved the idea and the rest is history, along with a slightly aching back.
This tutorial will show you how I created a 20 ft diameter flagstone patio. It took some hernia-inducing work, but I'm very proud now when I gaze on my backyard through eyes of chipped granite and say, "Oh, yes. I built that."
How to make a flagstone patio. Here we go!
Step 1 – Check with your doctor. What the heck! Yes, this is a real step. In other words, I'm saying make sure you are physically up for this project. Unless you hire this project out or rent a Bobcat, you will be doing a lot of digging and heavy lifting. And flagstone can get very heavy. I recommend you get some help, especially with lifting the bigger pieces.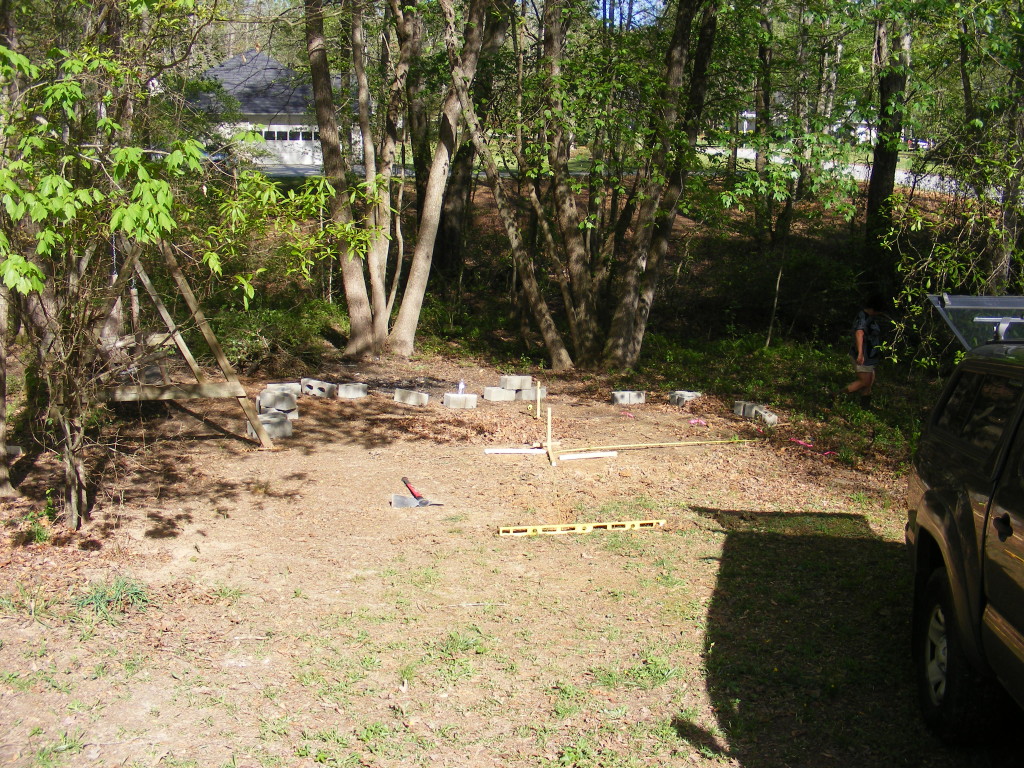 Site selected. Trampoline removed.
Step 2 – Choose a site. Check on subdivision or covenant rules. What about the neighbors? Do you want it in a more secluded spot? Closer to the house? We decided to get about 100 feet from the house because we added a fire pit in the middle of the patio. I also recommend choosing a site that's already level. Mine is on a slight slope and so I've had to acccount for drainage issues.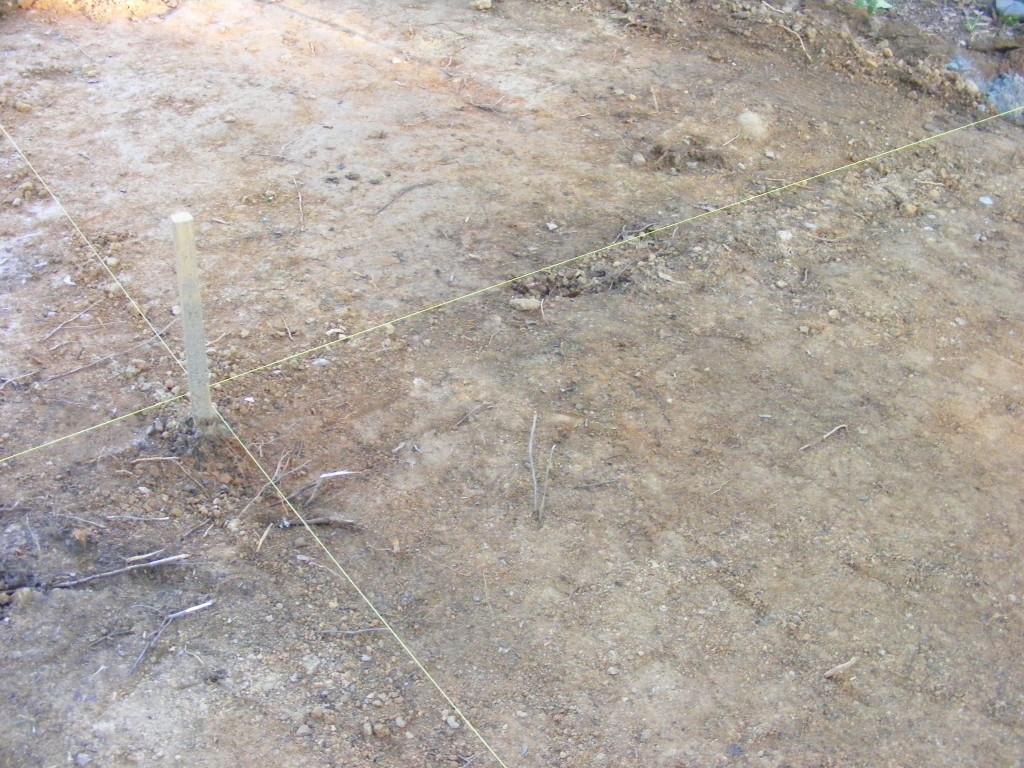 Lay out level strings.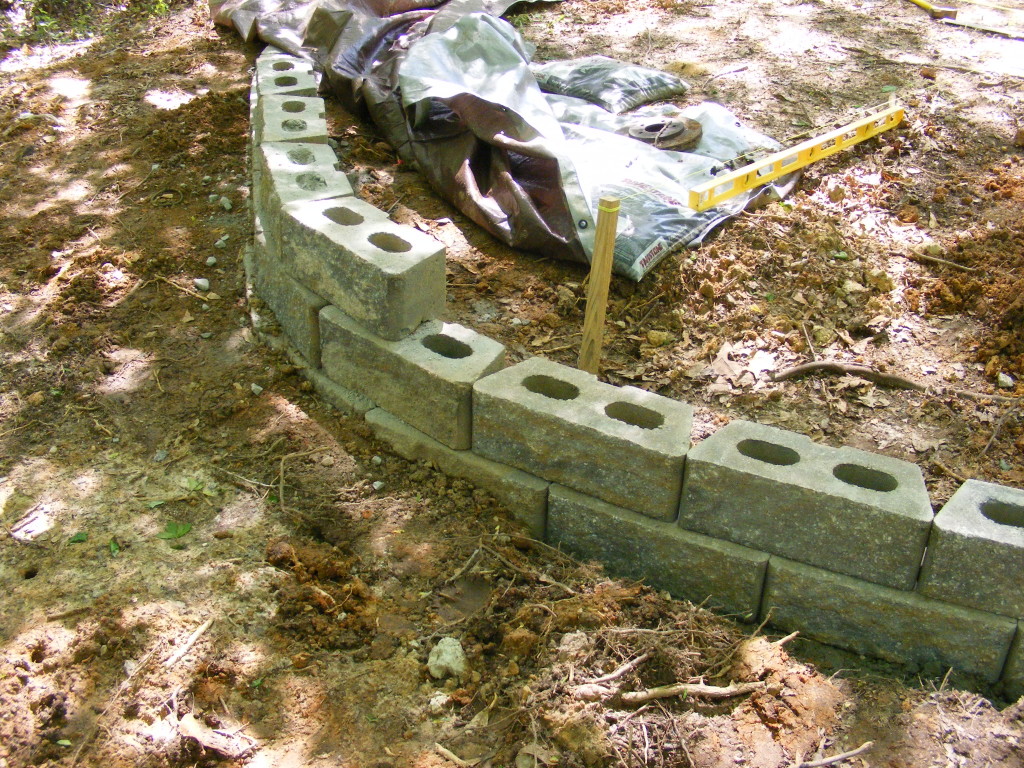 First I had to build a retaining wall.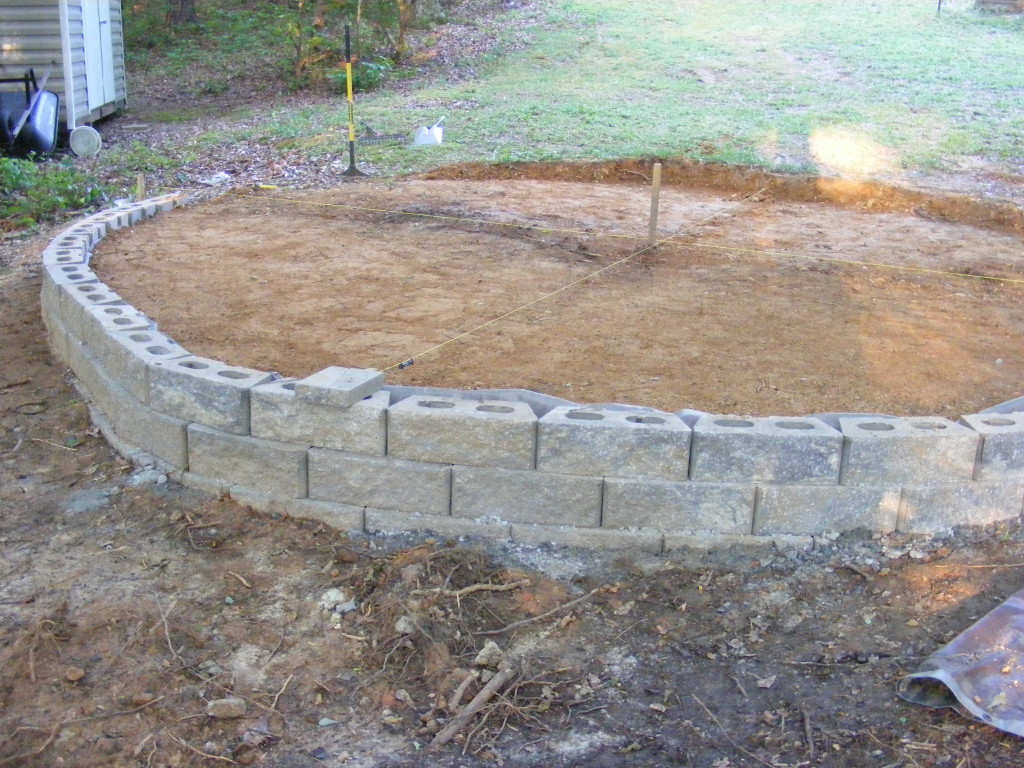 Established a level soil base.
Step 3 – Prepare the site. Since my patio was built on a slope, I had to build a small retaining wall. I bought all my retaining wall blocks from Home Depot. After the retaining wall was in place, I dug out the high part of the patio site and filled in the low part. My goal was to create a compact soil base that was roughly 3 to 4 inches below ground grade. I used leveling string to help guide me and tell me where final grade would be.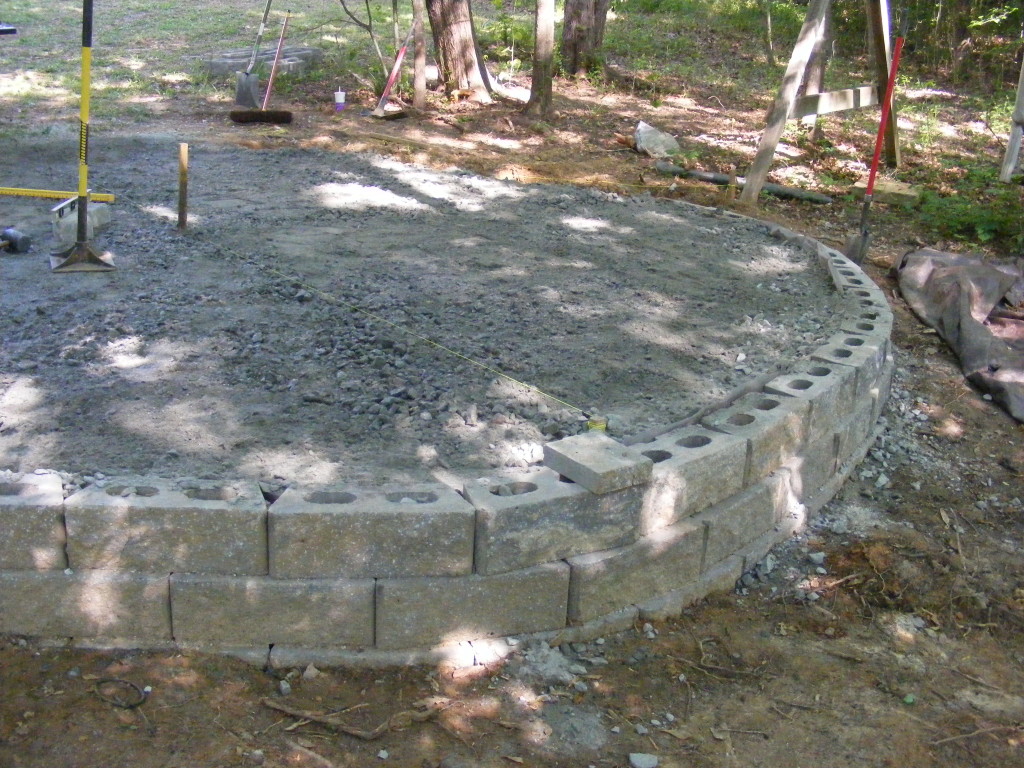 Step 4 – Add the crush run base. Once I had my soil base down, leveled and compacted, I added a 3 to 4 inch layer of crush run. Crush run is a gravel mixture containing smaller particles and some bigger particles. You could also use M10 which consists of mainly smaller gravel particles. Spread this out over your site and pack it down. You can use a hand tamp which takes longer or you can rent a gas-operated tamp.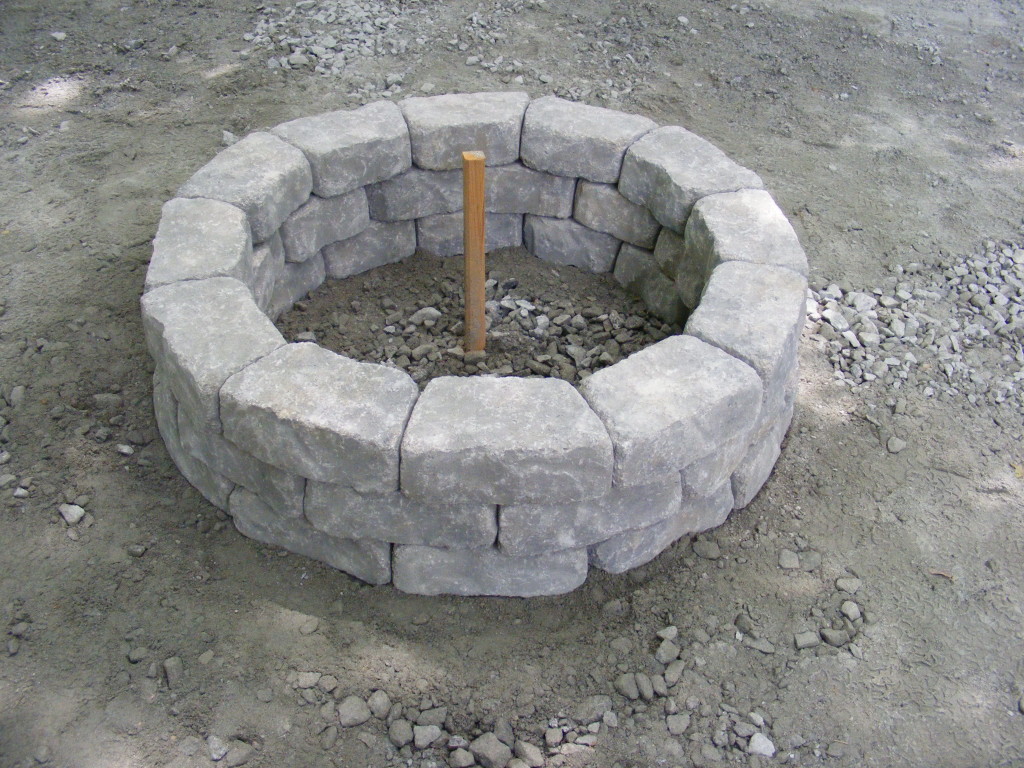 Step 5 – Add the fire pit. I decided to add the fire pit first and then build the flagstone patio around it. Rather than going into all the steps here, you can refer to my separate tutorial on building the fire pit. Of course, this is totally optional. You may not want a fire pit.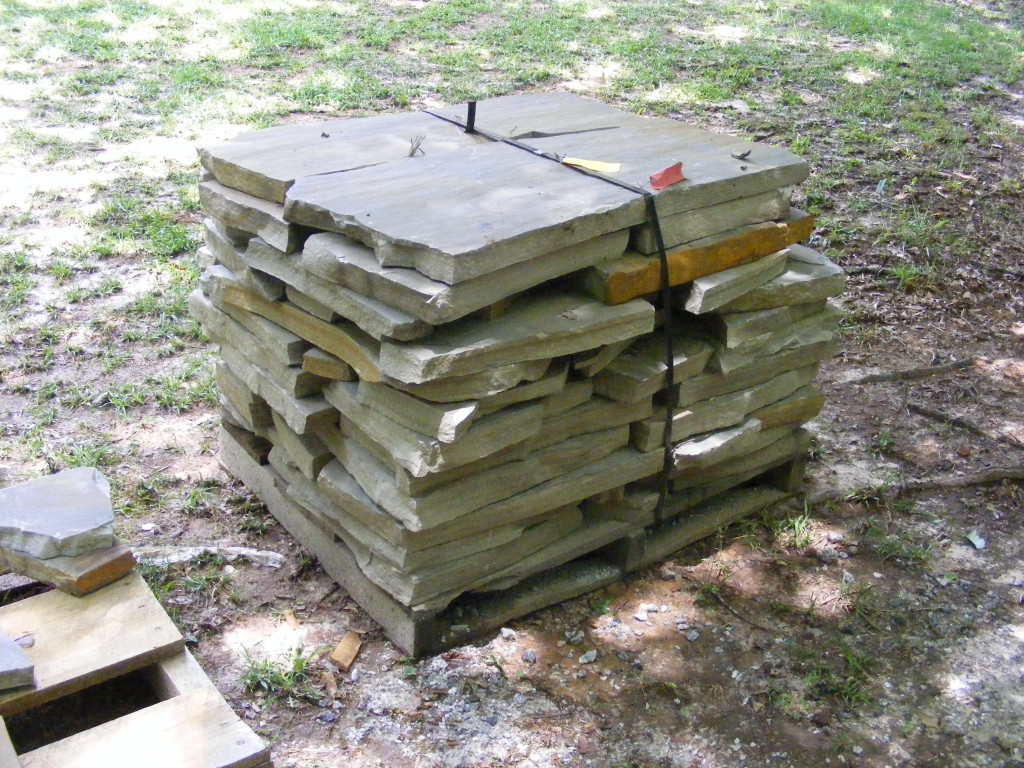 Step 6 – Procure the flagstone. Check around with different landscaping stores to get competitive pricing. Tell them the dimensions of your patio and they will tell you how many pallets are needed. One pallet can weigh about a ton or more. Before you buy, inspect the stones for quality and make sure they're the color you want. I highly recommend 2 to 3 inch thick flagstones. Anything less than that will not be stable when you walk on it. Ask them to deliver the pallets to your house and preferably right next to the patio site.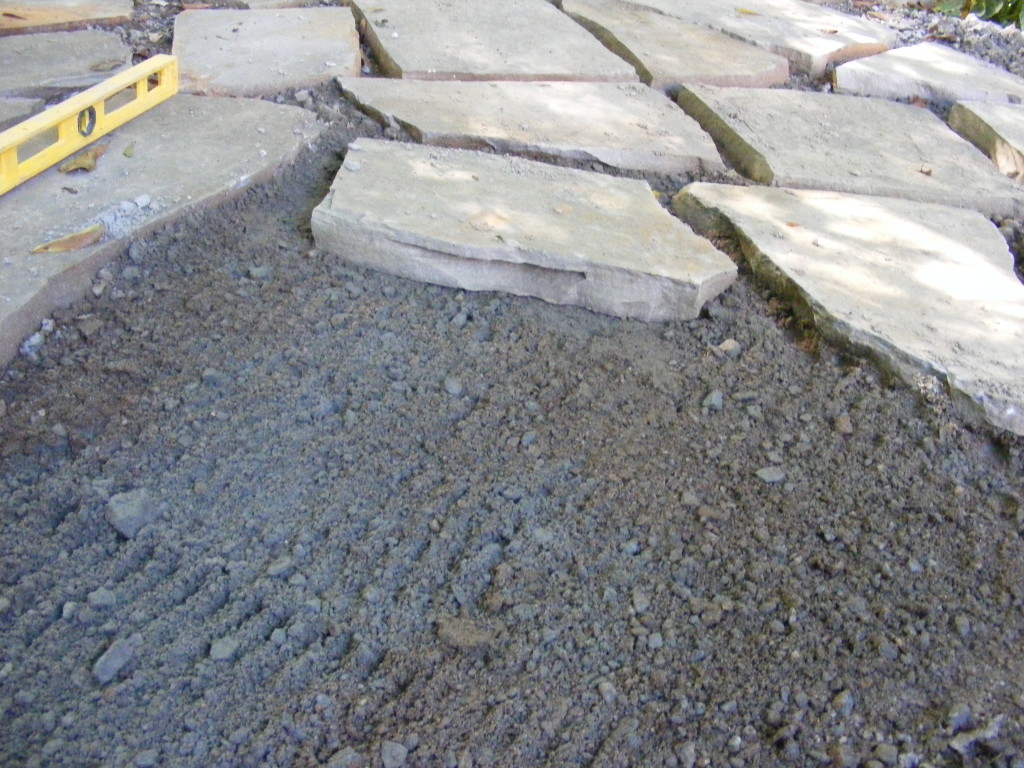 Laying down the flagstones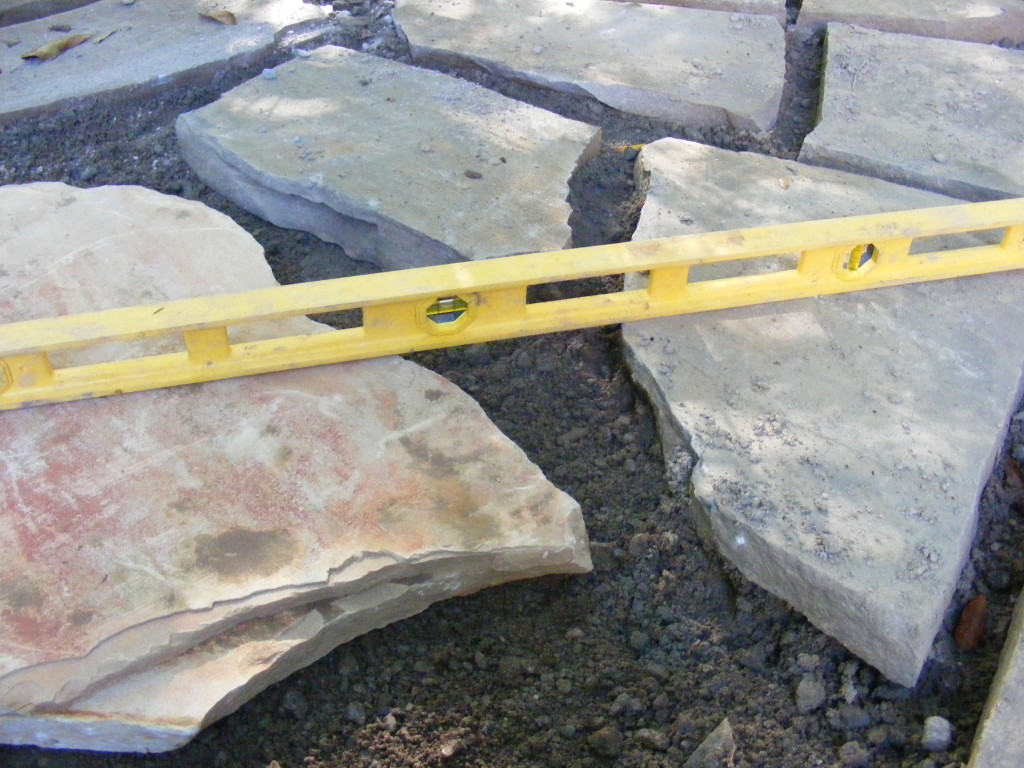 Making sure stones are level and even with each other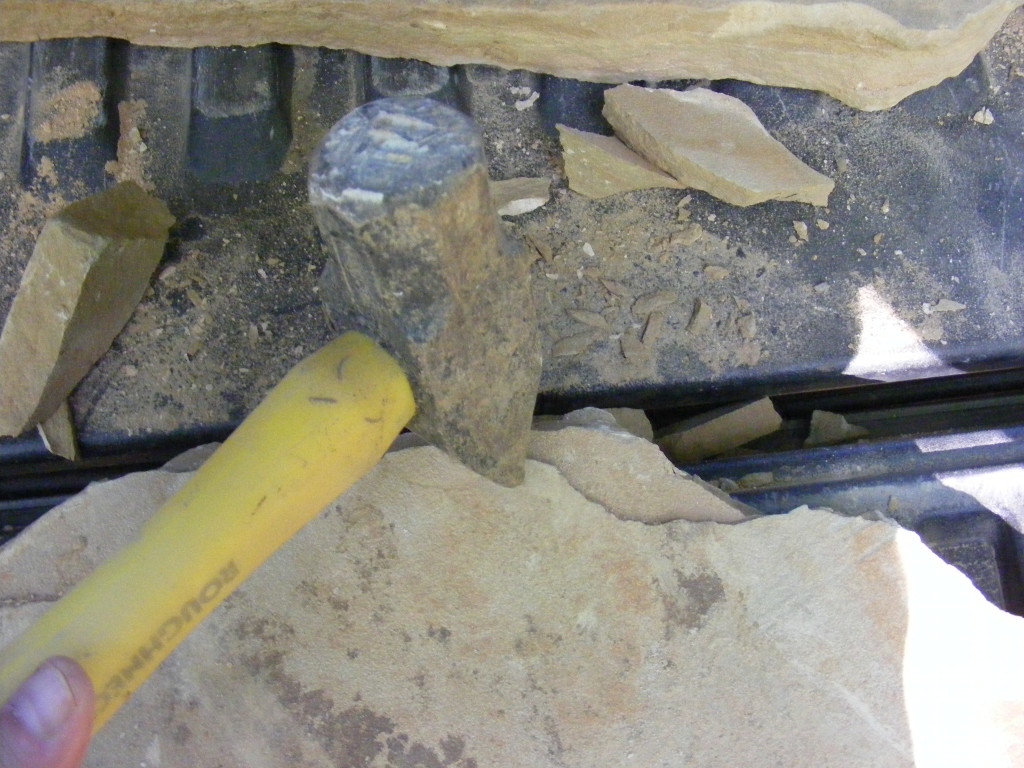 Shape the stones by chipping off jagged or sharp edges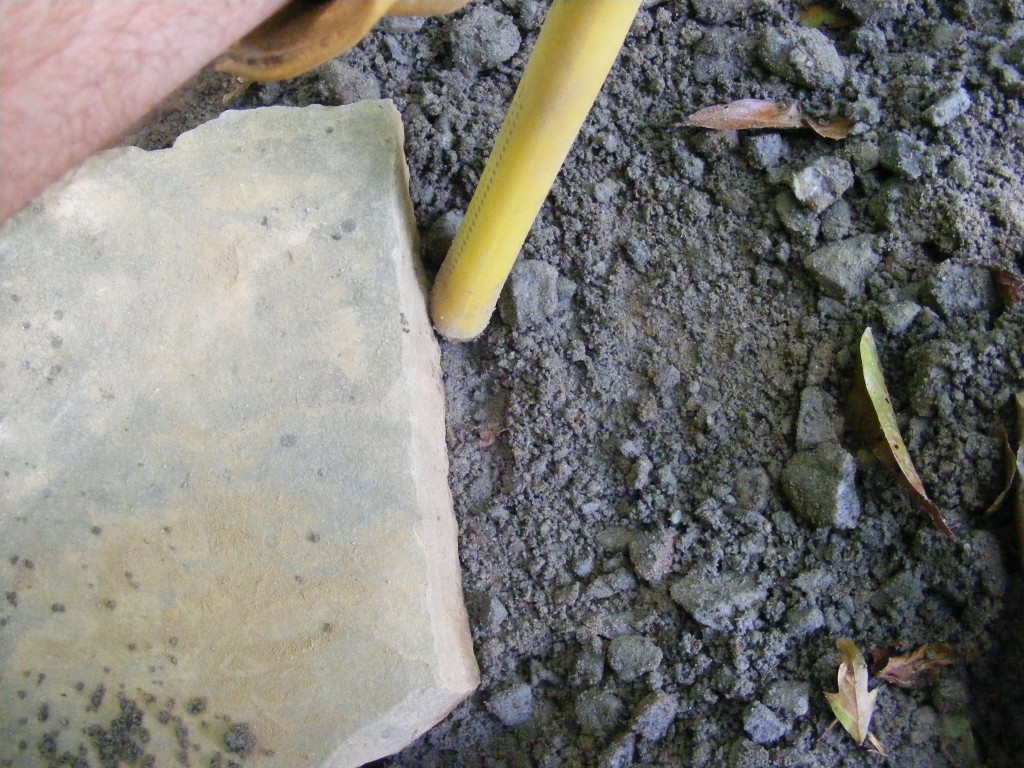 Tamp the crush run around the stone's edges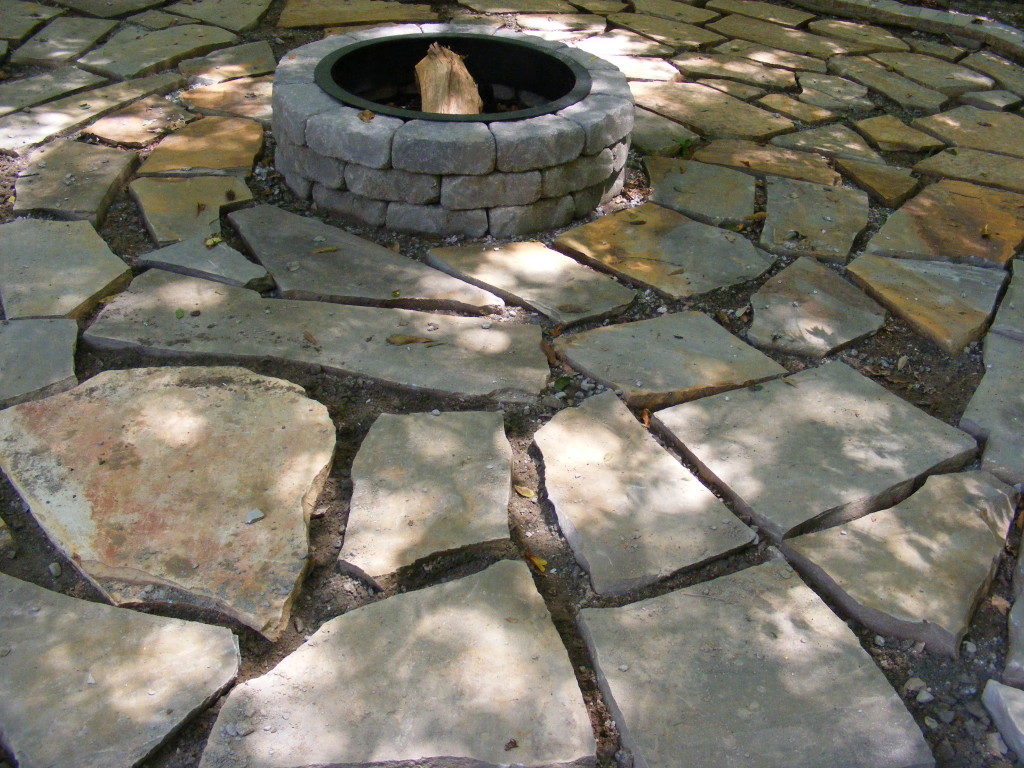 All the stones are down and in place
Step 7 – Put down the flagstone. In step 4, I added the crush run and I tamped and leveled it to create the base for the flagstone. Placing the flagstones is like putting together a big jigsaw puzzle. You have to picture in your mind how pieces will go together. Add each stone one at a time. Use a level to check each stone. Extend the level to adjacent stones so the top surface of the stones are even. I liked to tamp the stones with a rubber mallet. I would also stand on them to make sure they were stable. If a stone is higher than neighboring stones, take out crush run and reset it. If it's too low, add crush run to build it up. It's a simple process, but I never said it would be easy. It's okay to leave 1 to 2 inch gaps between the stones. You may opt for a tighter spacing. Flagstone is also easy to break and shape. I made sure that I carefully knocked off very sharp or jagged edges. Wear your safety glasses.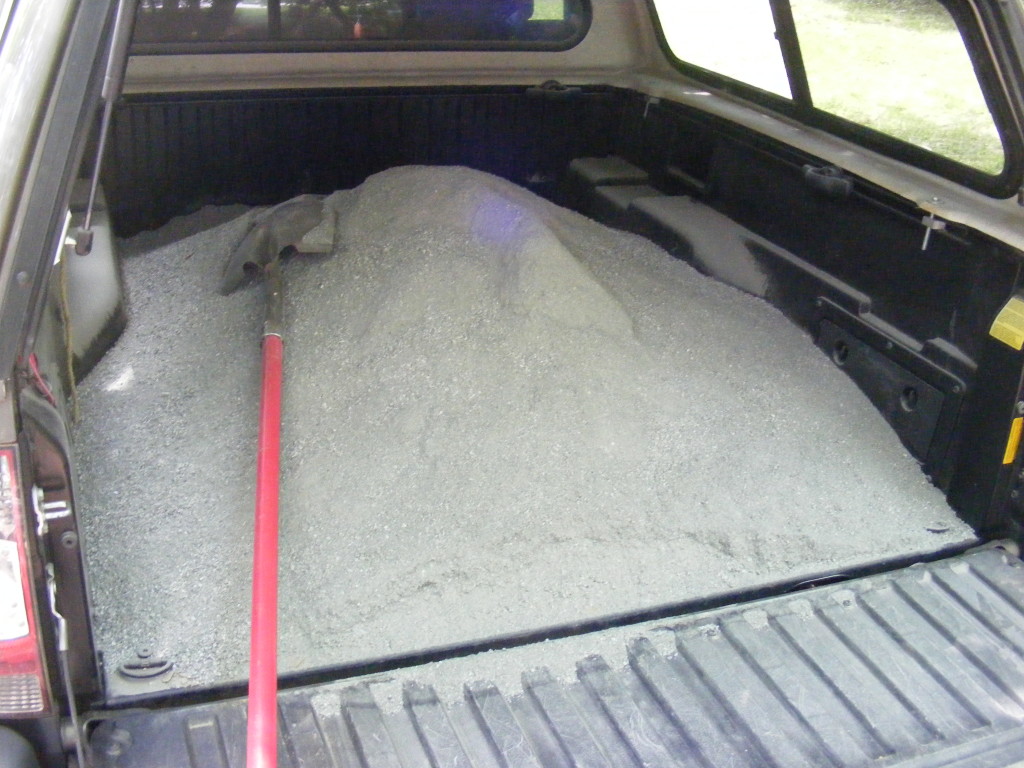 A truckload of M10 did the job for me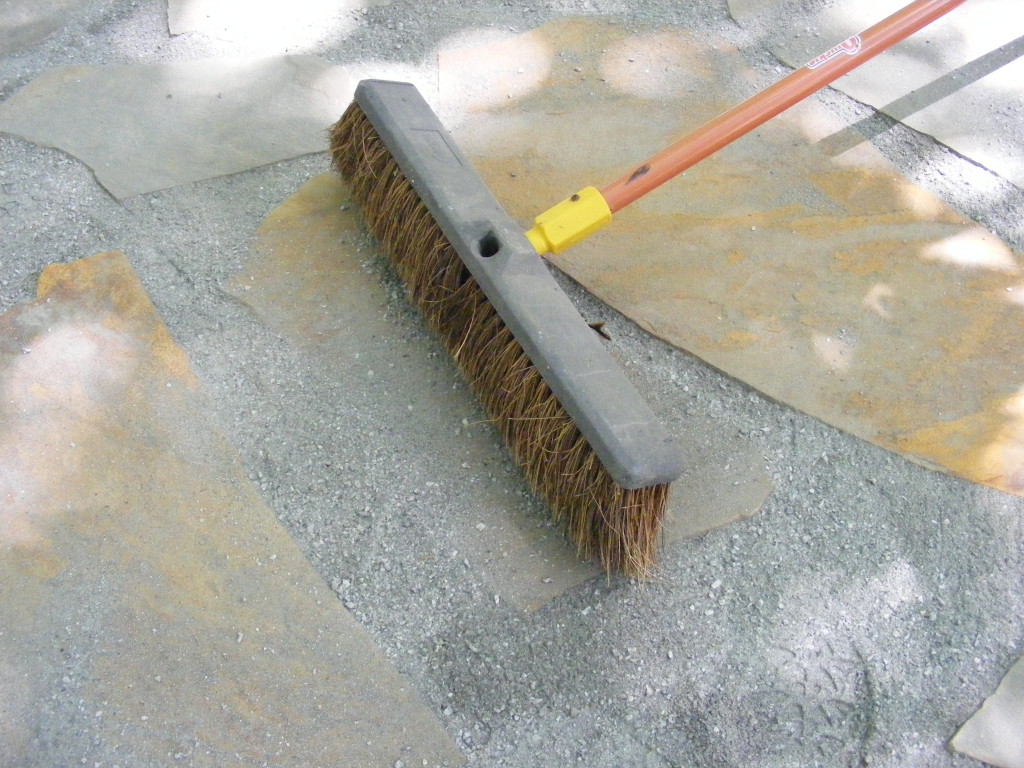 Broadcast the M10 and use a push brush to fill the gaps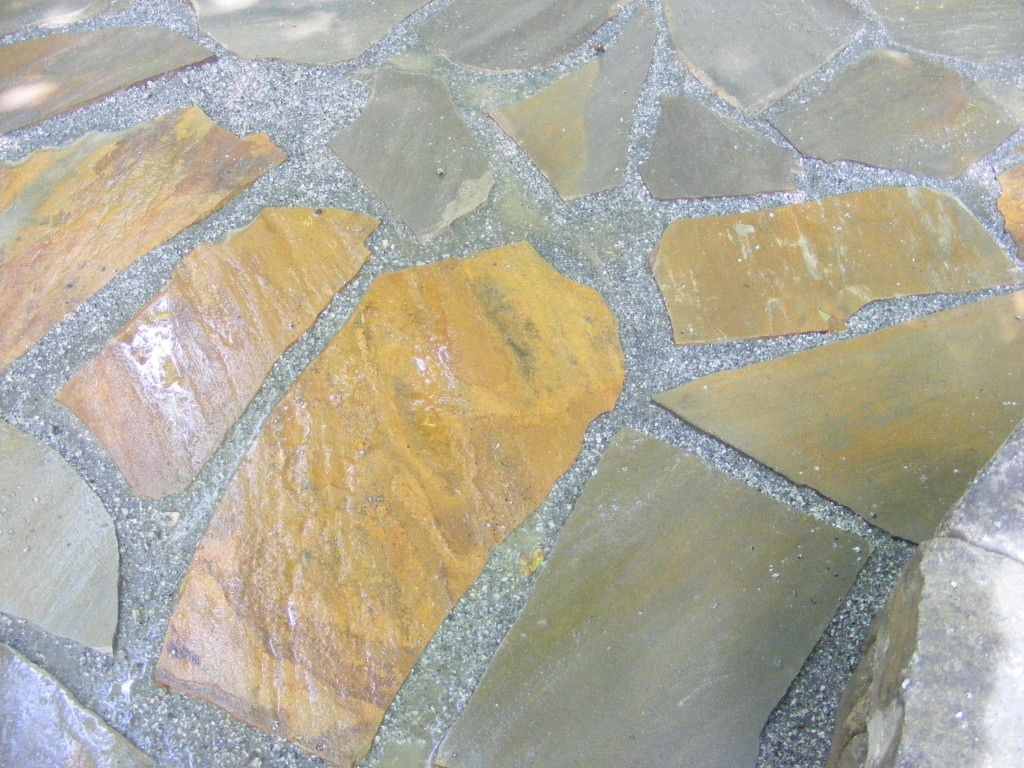 Spray the patio with water to help the M10 settle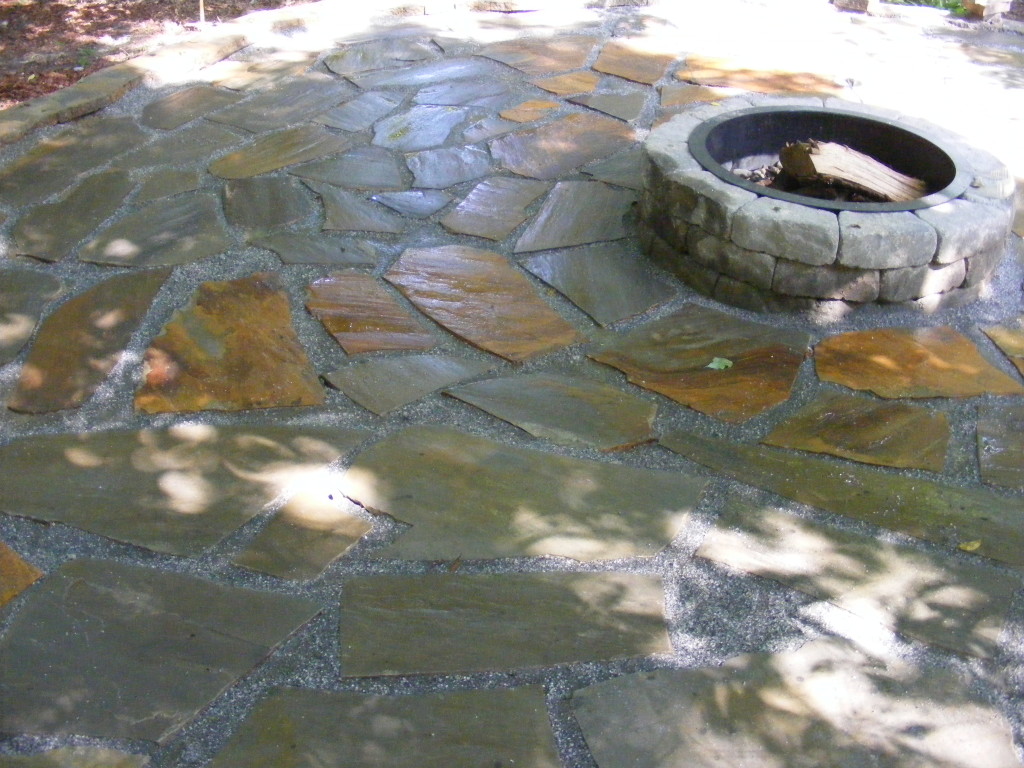 Another view of finished patio
Step 8 – Fill in the gaps between the stones. There are various ways to fill in the gaps between the stones, but I decided to use M10 which is a very fine gravel that packs well. Broadcast the M10 with a shovel across the flagstones. Then take a push broom and move the M10 to fill in the gaps. Only fill the gaps part way intitially and spray the patio lightly with a nozzled hose pipe. Allow the water to settle the M10 for a few minutes and then broadcast more of the fine gravel to completely fill the gaps. Spray the patio one final time.
It's done, and I literally saved thousands of dollars doing it myself.  Now it's time to invite the friends and neighbors over for a party!
I hope you have enjoyed this tutorial. Please consider subscribing to my blog. It's free. Also feel free to leave comments or tips that can help make this tutorial better.