Anyone who catches the DIY, woodworking, or crafting bug, will eventually face the necessity of having a workshop or a workspace. So let's talk shop for just a minute. In this article, I will draw back the curtain and give you a glimpse of my own little workshop here in Atlanta Georgia. And offer some advice on planning your first workshop.
Not to sound like Captain Obvious, but what you make and how much you make will largely determine your shop space needs and tool requirements. Craft and DIY projects also range from the simple (build a birdhouse) to much more complex (a wooden kayak).
My shop takes up a 12ft by 20ft space in my "two-car garage." I can get away with that because I primarily make small items. I'm a weekend hobbyist. If you make big items (like furniture) and/or do this as a business, you'll likely need a bigger space and perhaps higher quality equipment.
(At the end of this post, I will show you how you can get my comprehensive checklist of tools you'll need for your shop startup. I also provide a nice list of safety tips and safety gear to complete your shop.)
Now — Let's get to planning your first workshop
The first picture below shows my JET mini lathe. This is where I make all my pens, and I'm beginning to branch out to other things like bowls, bottle stoppers, and pepper grinders. If you want to make larger bowls or items on a lathe, consider getting a medium size or full-size lathe. Of course, the price will go up. (You may want to check out my post on choosing a lathe to learn more)
I built my shop workbenches myself and those were fairly easy to make — mainly 2 X 4s and plywood. I don't have a picture of it here, but I also love my Black & Decker Workmate Workbench
which I can roll around and move outside my shop when needed.
Next picture below shows a couple of important tools I use often. I use dry grinding wheels and a Wolverine Jig (on left) to sharpen my lathe chisels and my bandsaw (on right) for cutting pen blanks and projects that require curved cuts. Check out my bandsaw box project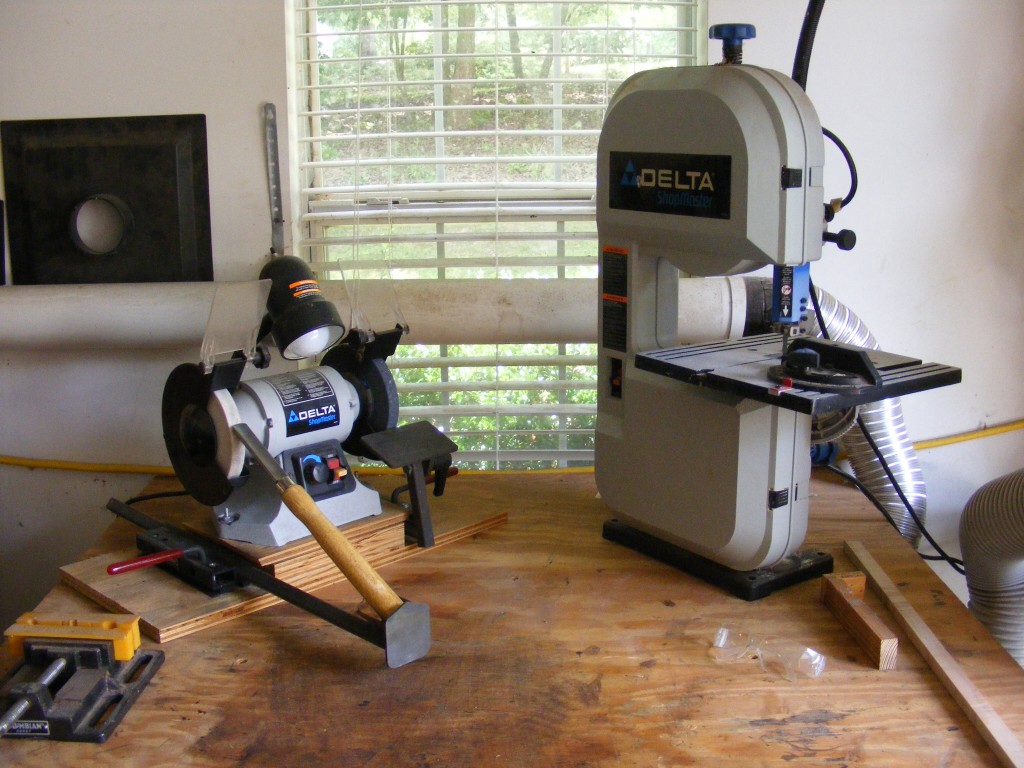 You know as well as I do the health risks from breathing in wood dust, so the next few pictures show my Shop Fox dust collector and the components that go with it. I used some inexpensive flex duct and pvc pipe to help me position the dust collector to the outer limits of the workspace.
But I also wear my dust mask and/or respirator. These are very inexpensive ways to preserve your health.
On my wish list I have a dust filtration system which takes the fine particles out of the air.
Pictured below is my Craftsman Drill Press. I use this often in combination with my pen vise to drill my pen blanks. A drill press is a necessity if you need to drill clean, straight holes. It's also helpful when you need to drill holes to a certain depth. I also like to insert sanding drum attachments so I can sand inside curves.
Another tool that proves valuable time and time again is my quick release bench-mounted vise. Great for pressing pens parts together and holding wood for drilling and shaping.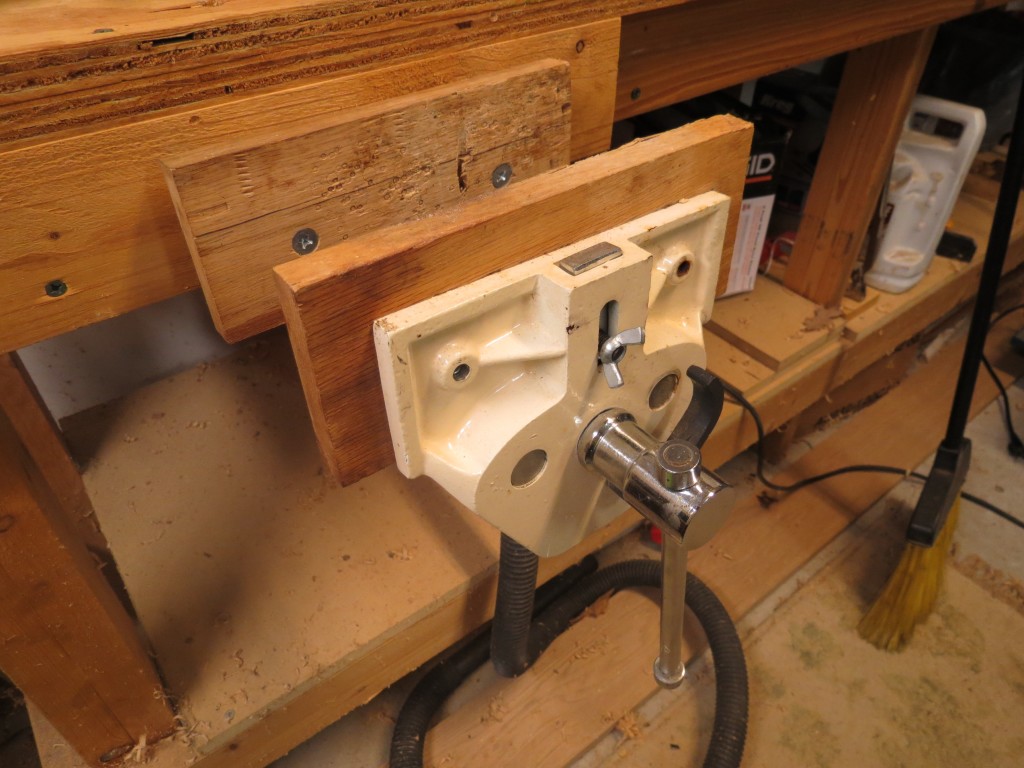 Over the past few months, I've started using a battery-power Ryobi nail gun. I absolutely LOVE this tool. It's made assembling wooden projects much easier and quicker.
My most recent addition to the shop is my 12 inch compound sliding miter saw. Comes in very handy for cutting narrow stock. I've used it for crown molding, wood blanks, bird houses, and for cutting other turning blanks.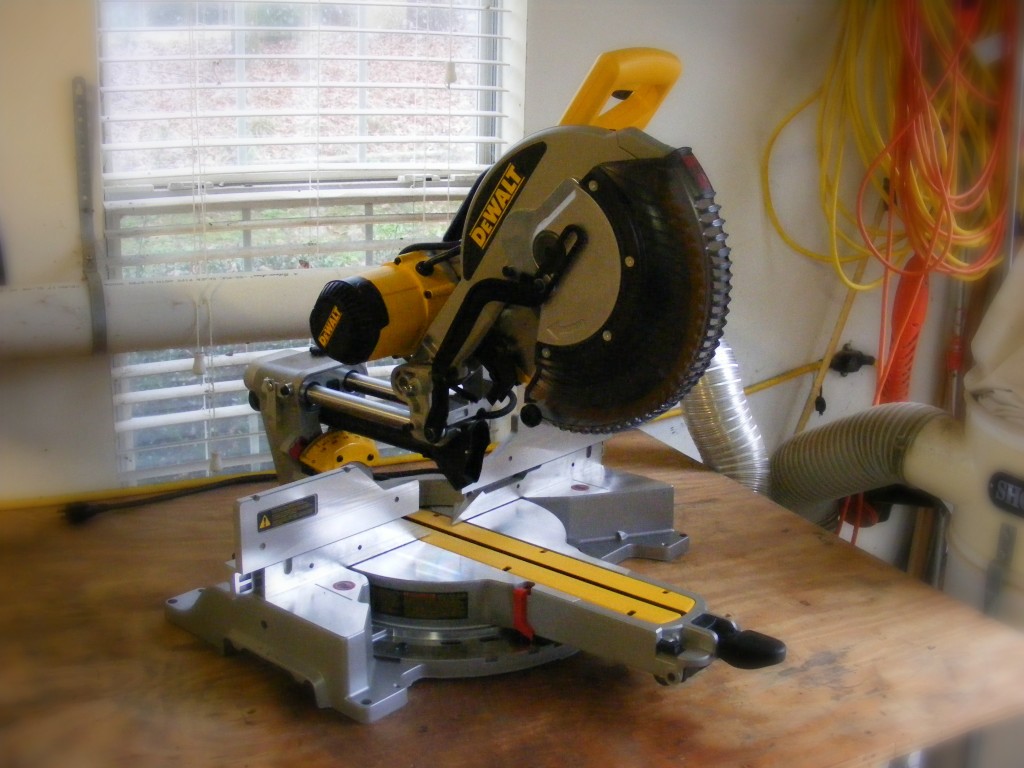 There are many other tools I've collected over the years. I store those on shelves within my shop and pull them out as I need them:
Benchtop belt sander.
Scrollsaw
Router
Dremel
Portable drills and saws
Clamps
Shop vac & air compressor
Grizzly Table saw (had to move this to my storage shed)
Like everyone, I have a wishlist. But this will require me to reorganize my shop. (Or give away my son's project car … lol. No … not going to do that.)
Planer
Air filtration System
Bigger capacity bandsaw
Spindle sander (orbital)
Here are a few parting tips for creating your first workshop – from one hobbyist to another:
Get a copy of Your First Workshop: A Practical Guide to What You Really Need by Aime Ontario Fraser. This book was very helpful in the early planning stages for my workshop.
Go slow and watch your budget. Pace yourself—save up, and buy a few tools at a time. Don't buy dirt-cheap tools. Buy good, quality tools.
Consider your spouse's space needs also. She may actually want to park her car in the garage. If you get a divorce, then you may have to kiss your dream shop goodbye for a while … lol.
On a piece of paper, draw out the dimensions of your space. Lay it all out on paper first. I'm sure there has to be a program or app out there that will do this for you.
Decide what tools will be used frequently. I look for a more permanent spot for those tools. Find a good storage place for tools you'll need to use infrequently. But locate them so they're relatively easy to retrieve.
Consider power needs and location of outlets. I found and purchased a heavy duty power cord that has built-in receptacles. Also, consider additional lighting needs. Those two fluorescents that came with the garage, just ain't gonna cut it.
Lastly, consider where you will store materials like plywood, boards, pen blanks, etc. Don't forget the extra space near ceilings; you could build shelfing that hangs from your ceiling. You can also build storage areas along vacant walls. But build it so it's sturdy enough to hold weight.
In addition to the tips I've provided above, below are some other helpful websites with ideas and tips for setting up your first woodworking shop:
Setting Up a Workshop: 13 Steps (with pictures)
The Ideal Worshop Layout by Bob Villa
How to Setup a Woodshop: 10 Steps (with pictures)
10 Tips for Setting Up Your First Woodworking Shop
How to Start Woodworking in a Basement or Apartment
Shop Layout by Fine Woodworking Magazine
I hope you have enjoyed this post. Please share your comments and advice in the fields below. What other advice would you offer for those in the workshop planning stages?
Don't forget to get a copy of my

Home Shop Safety & Tool Checklist.

It's a free PDF download I will give to you as a gift for subscribing to my site. Enter your first name and email in the Subscribe form/button below, and I'll send you the PDF Checklist via email.
I hate SPAM and will not share you email. You can also unsubscribe anytime you want.