I've been eyeing several wine bottle bird feeder designs over the past few months, and I decided to come up with my own variation — the paracord wine bottle bird feeder. This is a combination wood and paracord project as you will see. Easy and lots of fun to make. It only requires a few simple tools. And I've incorporated wine bottle corks as well.
Now I can successfully wine and dine my birds … LOL.
Tools and Materials I used for this project:
DEWALT Jig Saw

1.5 Inch Forstner Drill Bit

7/32inch drill bit
Black & Decker Detail Mouse Sander

550 Paracord
(14 ft total)
Ryobi belt/disk sander combo

Sand paper 120 grit
Paint of choice
Wine corks (if desired)
And bird seed, of course!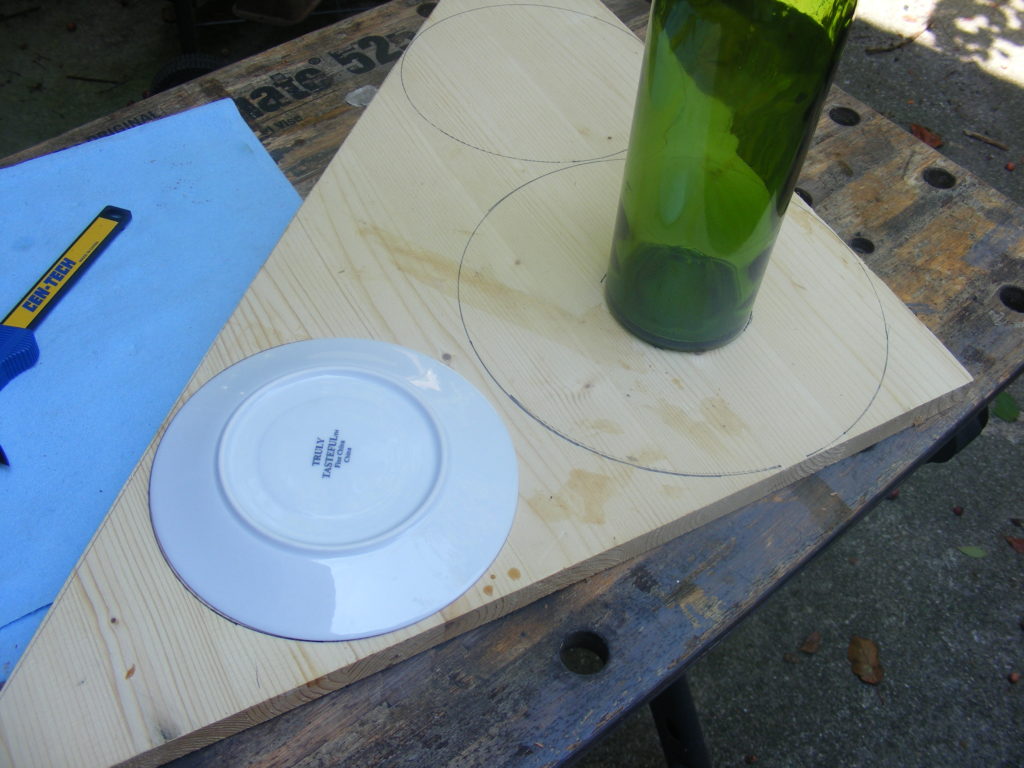 Step 1 — I used some dinner plates from around the house to trace my circles on a 1/2 thick pine board. Anything round will do. I decided to make the top board about 8 inches wide, middle and bottom boards about 6 inches wide. There's no magic to those numbers. I just went with what I thought would look good.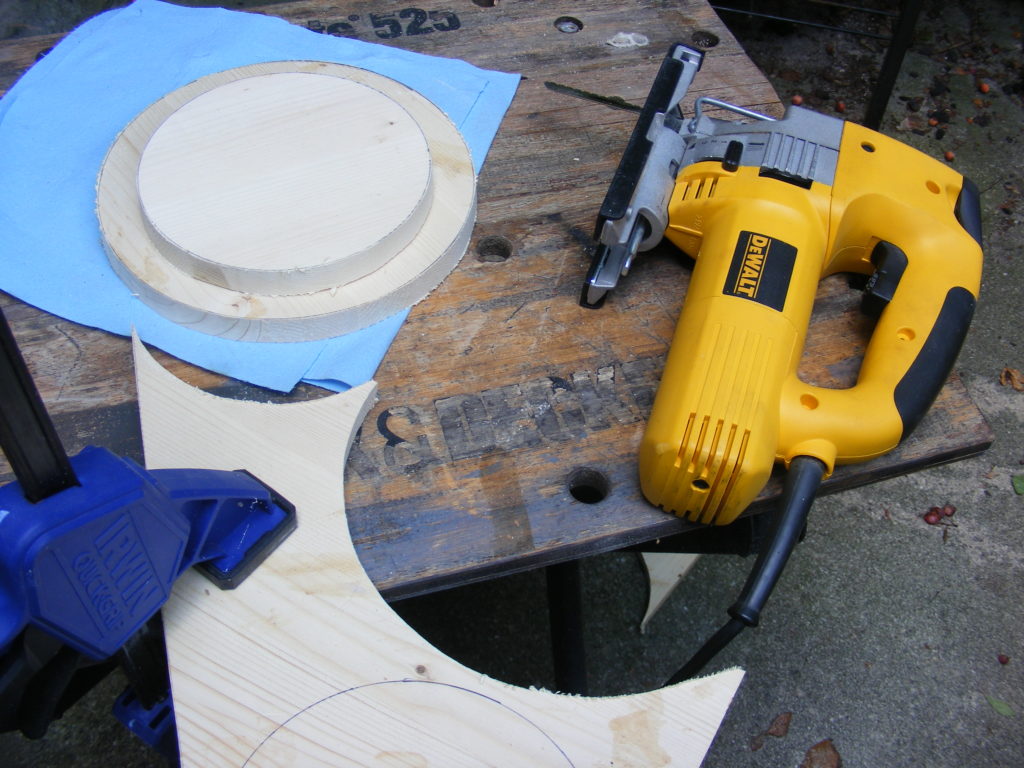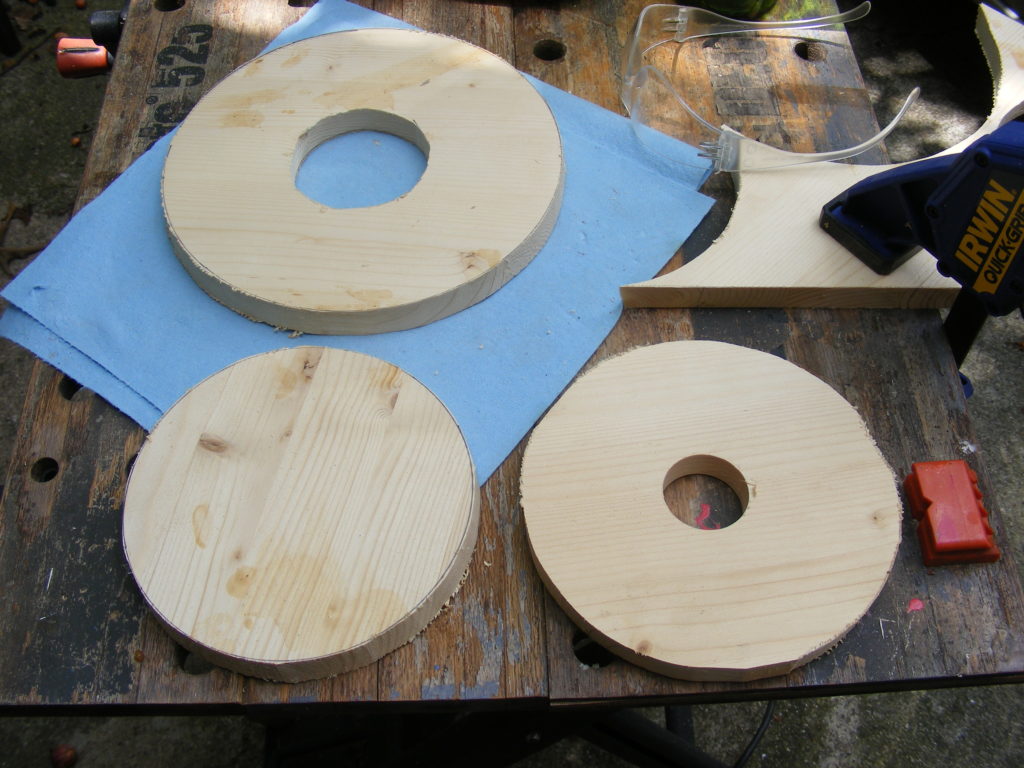 Step 2 — I used my saber saw to cut out the boards and the upper, center hole for the wine bottle.
Tip — Wine bottles have a taper. So make sure you make the hole big enough to slide the bottle all the way through.
Mine was about 3 inches wide, but it will depend on the size and dimension of the bottle you use.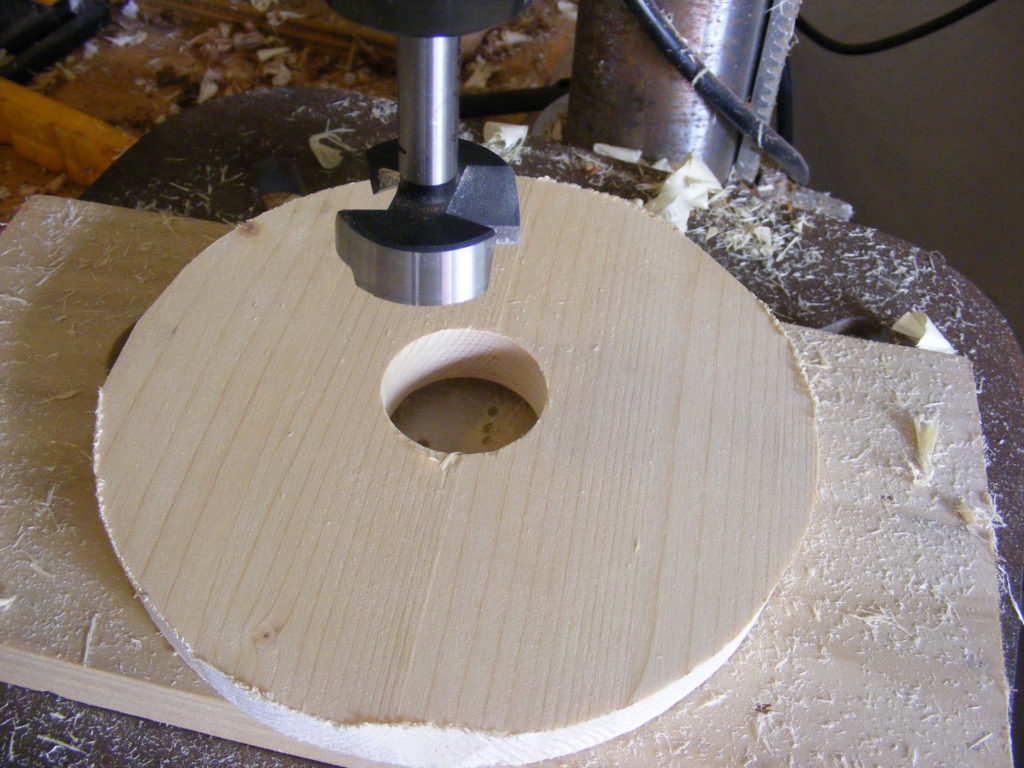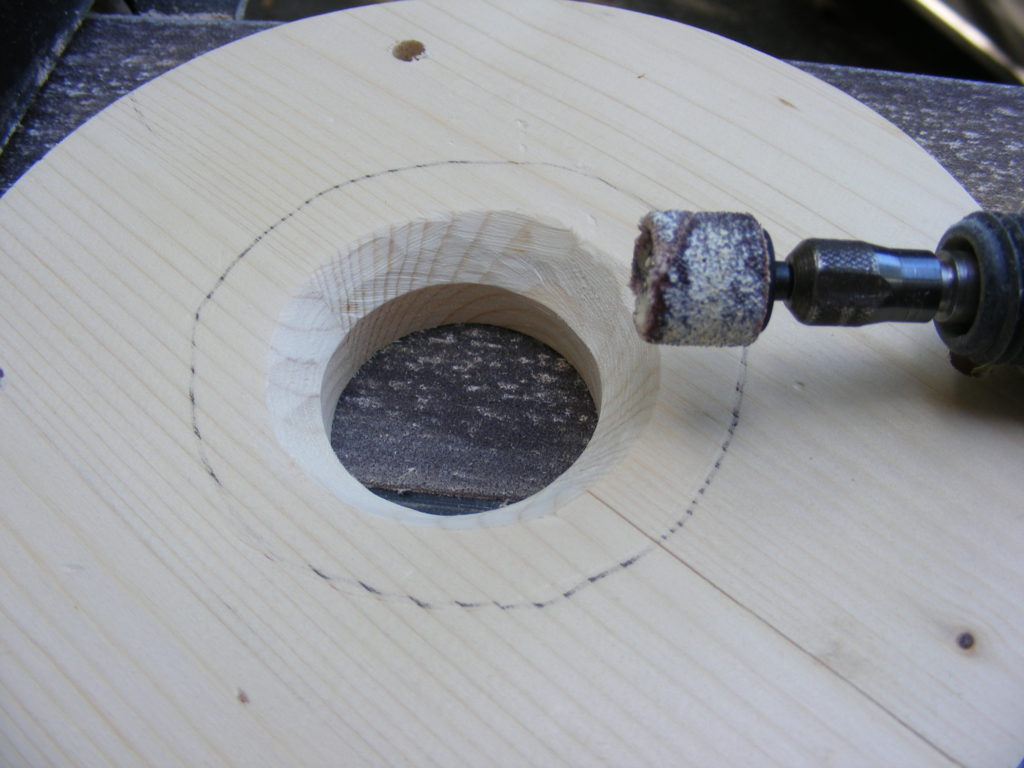 Step 3 — Using a 1.5 inch Forstner bit, I drilled a hole in the center of the middle board. This is the board within which the bottles shoulders will actually rest. I took my Dremel along with a sanding drum attachment and gave one side of this hole a concave profile. This helps the board cradle the wine bottle better, making it more stable.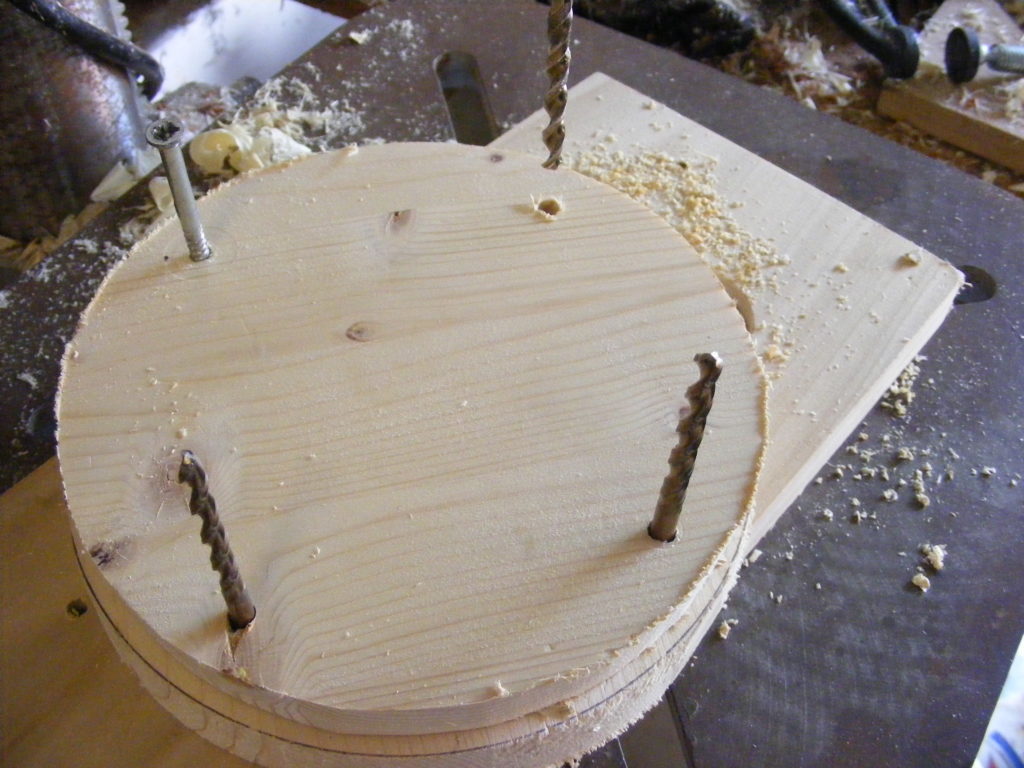 Step 4 — Drilled the holes for the paracord. Using a 7/32nd drill bit, I created 4 evenly spaced holes so the paracord runs parallel with the wine bottle. As you can see in the picture, I used some extra drill bits to help me keep the holes/boards in alignment. What I probably should have done was somehow clamp all three boards together (after I centered them up) and drill the 4 holes. As it turns out, the way I did it kept the holes aligned.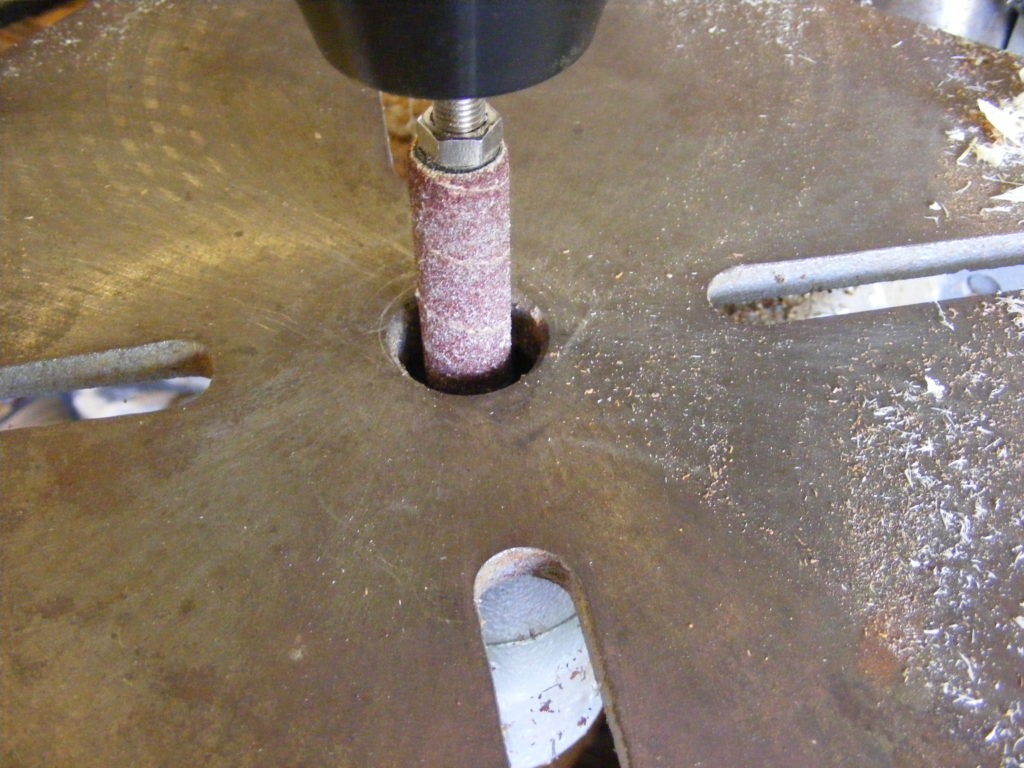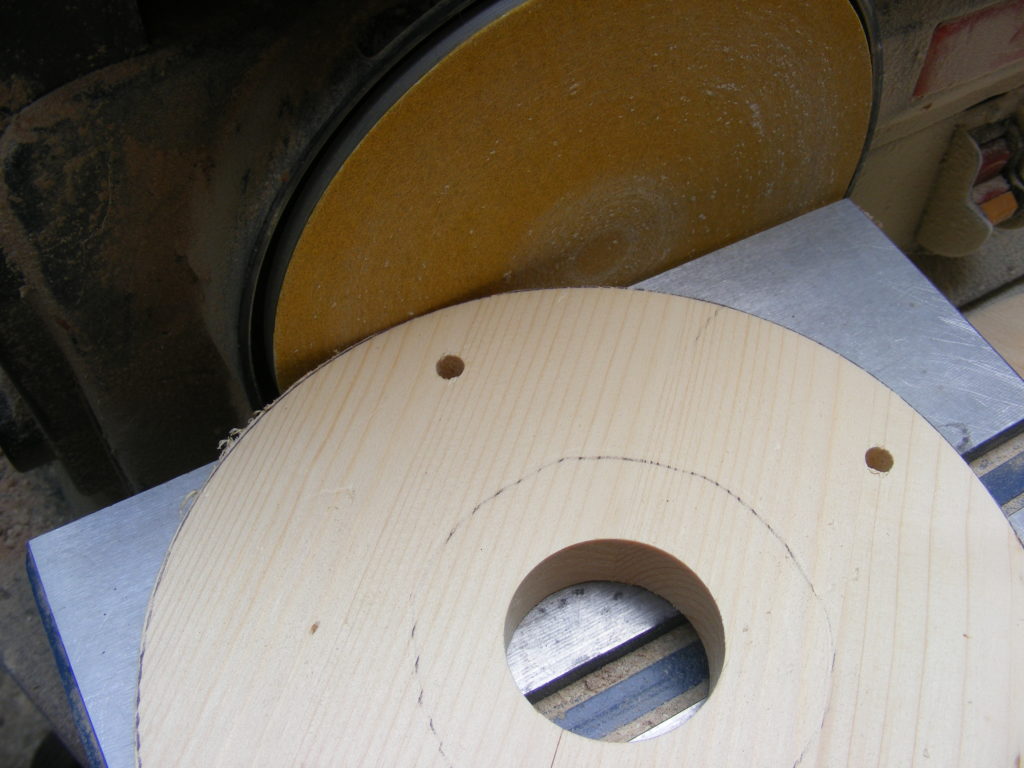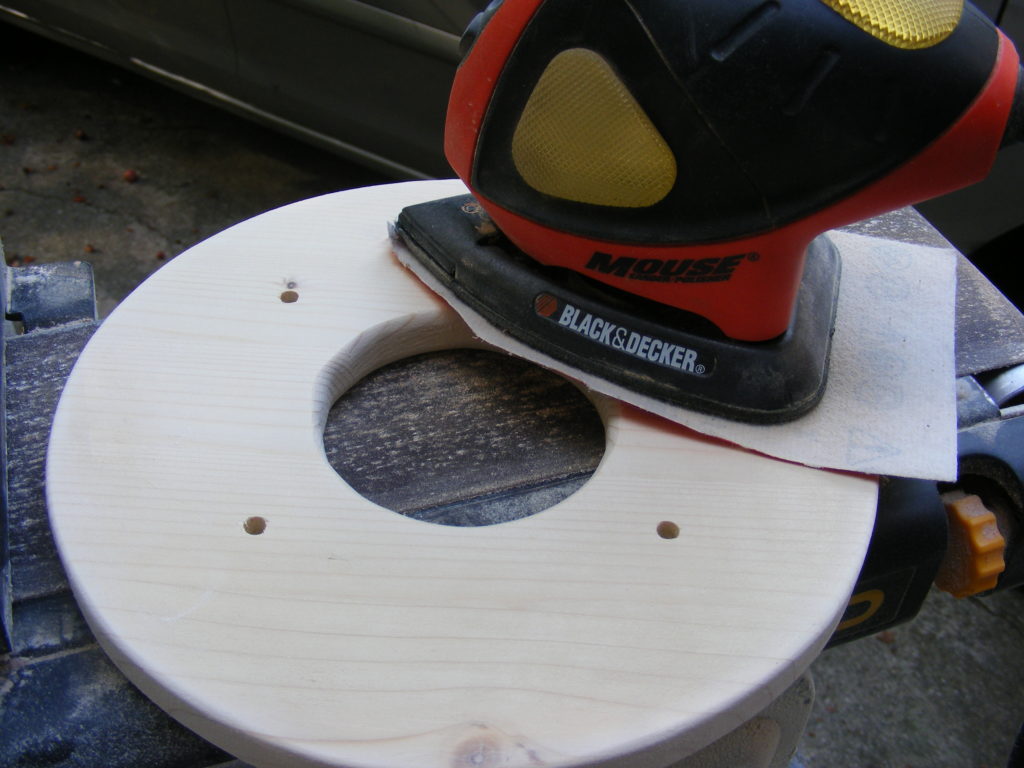 Step 5 — I sanded all three boards. I used a sanding drum attachment for inside curves. The disk sander for the outside curved edges. My Black & Decker detailed sander for the flat surfaces and for rounding any sharp edges. I broke out my Dremel for shaping the 1.5 inch hole in the middle board. I only used 120 grit sand paper since I planned to paint the bird feeder.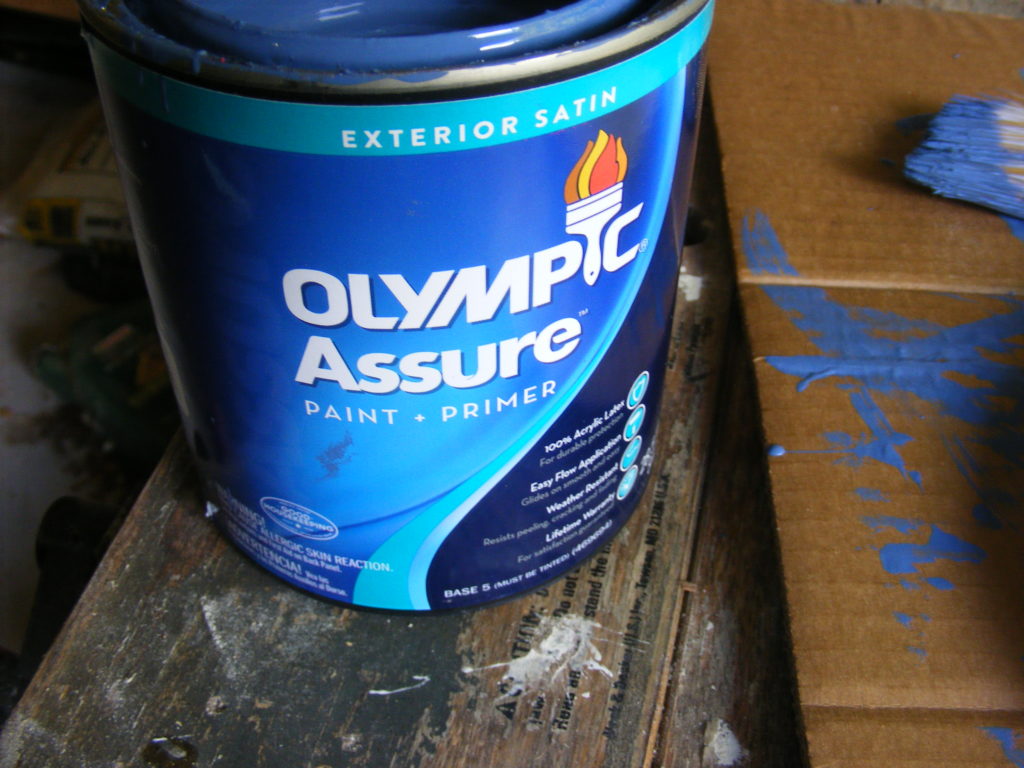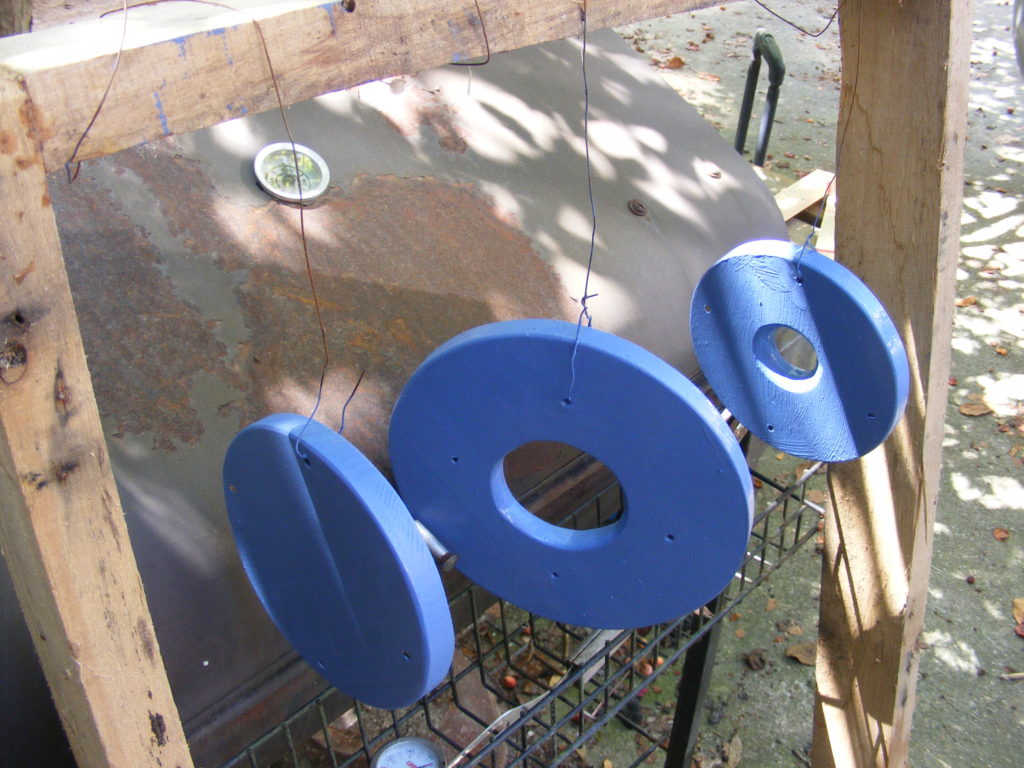 Step 6 — I applied 3 coats of blue exterior latex paint. I'm going for a red, white, and blue theme here. The paint is non-toxic.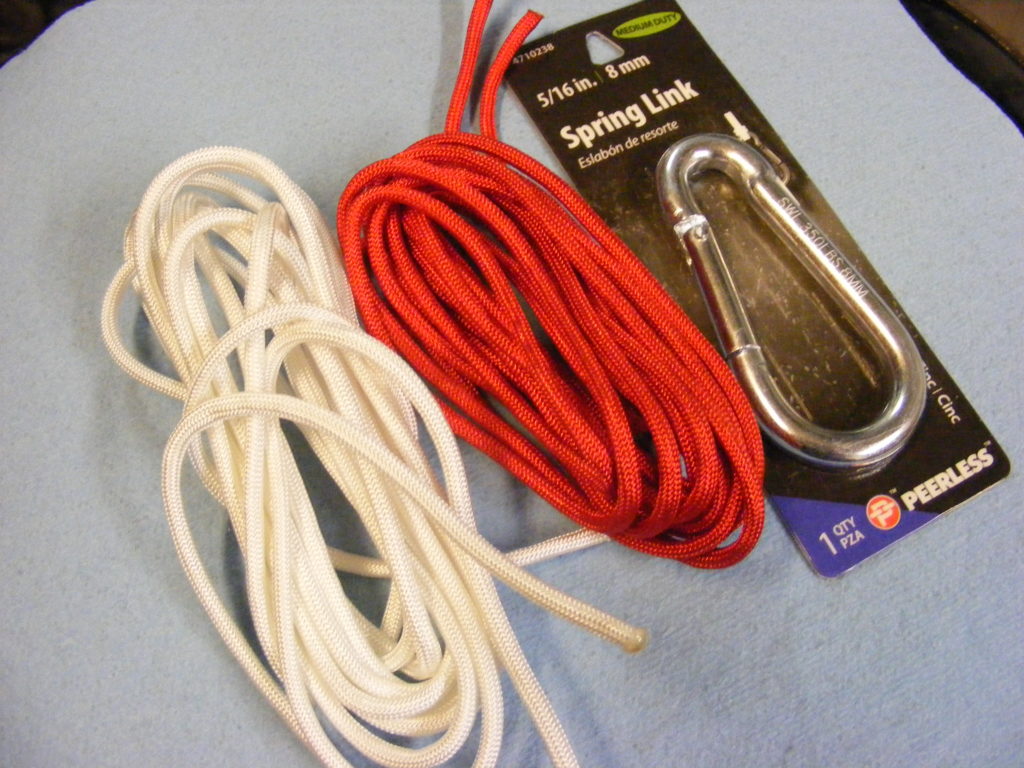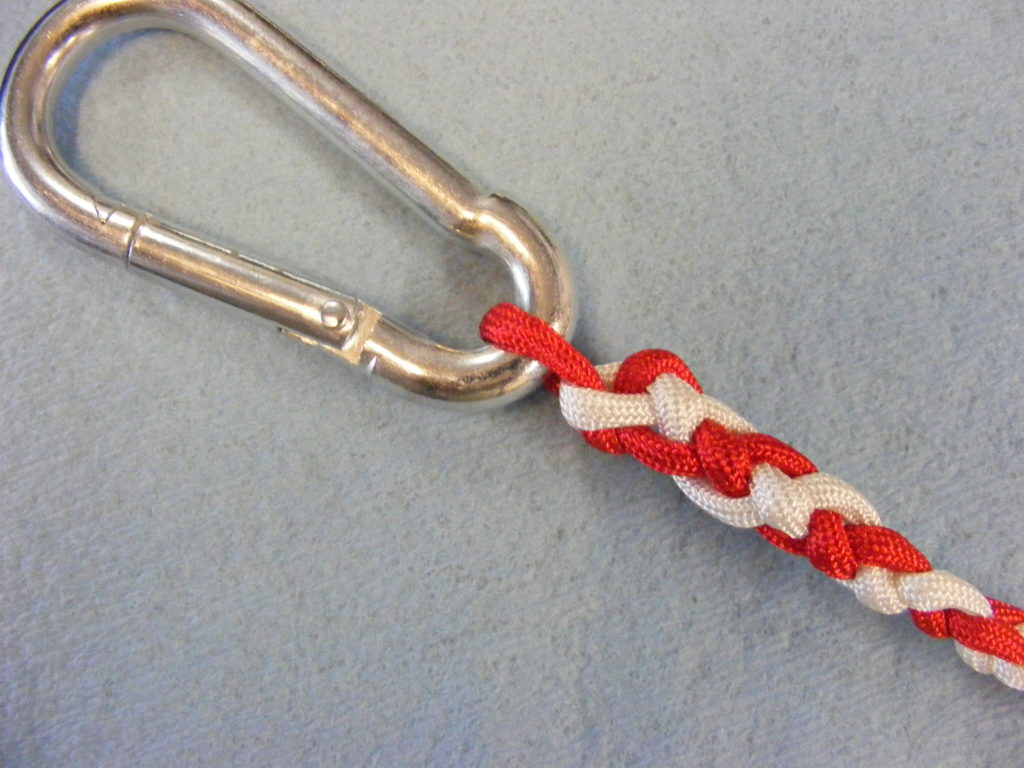 Step 7 — I used 550 paracord to connect the boards together. First, I tied a 4 strand braid at the top which is connected to a carabiner. I used a carabiner, but any kind of latch or curved hook will do.
I used 2 different colors, red and white. About 7 feet of red and 7 feet of white. Better to have a little too much and then you can trim off the excess.
If you want to learn how to tie a 4-strand braid check out my tutorial on making a paracord dog leash.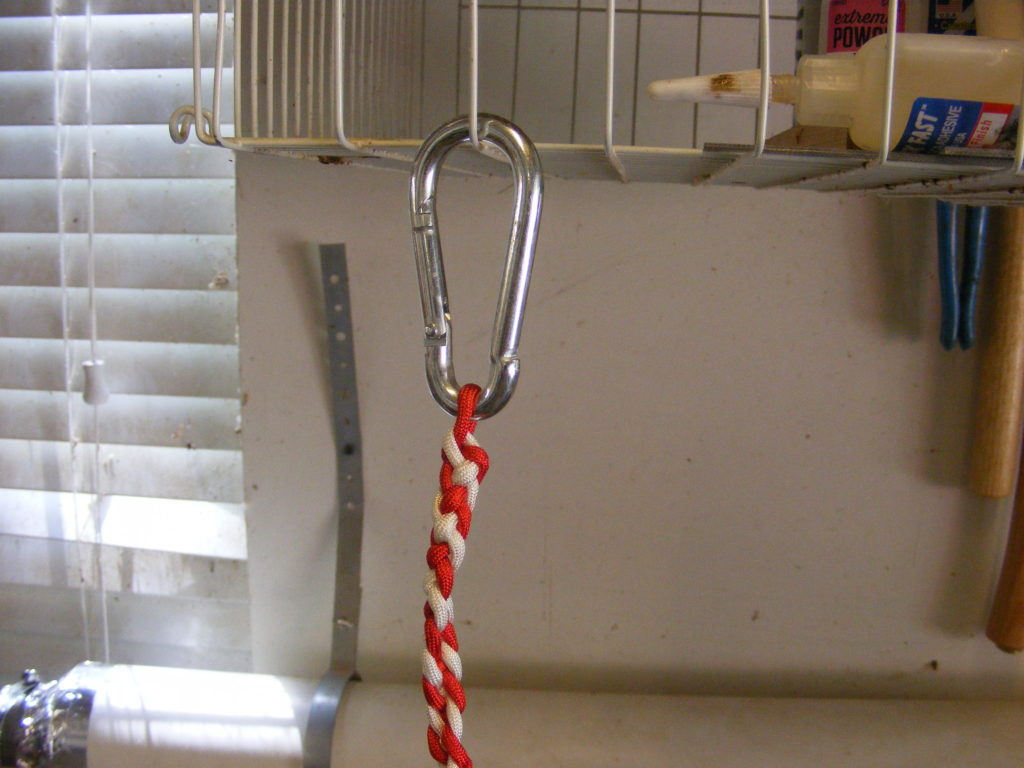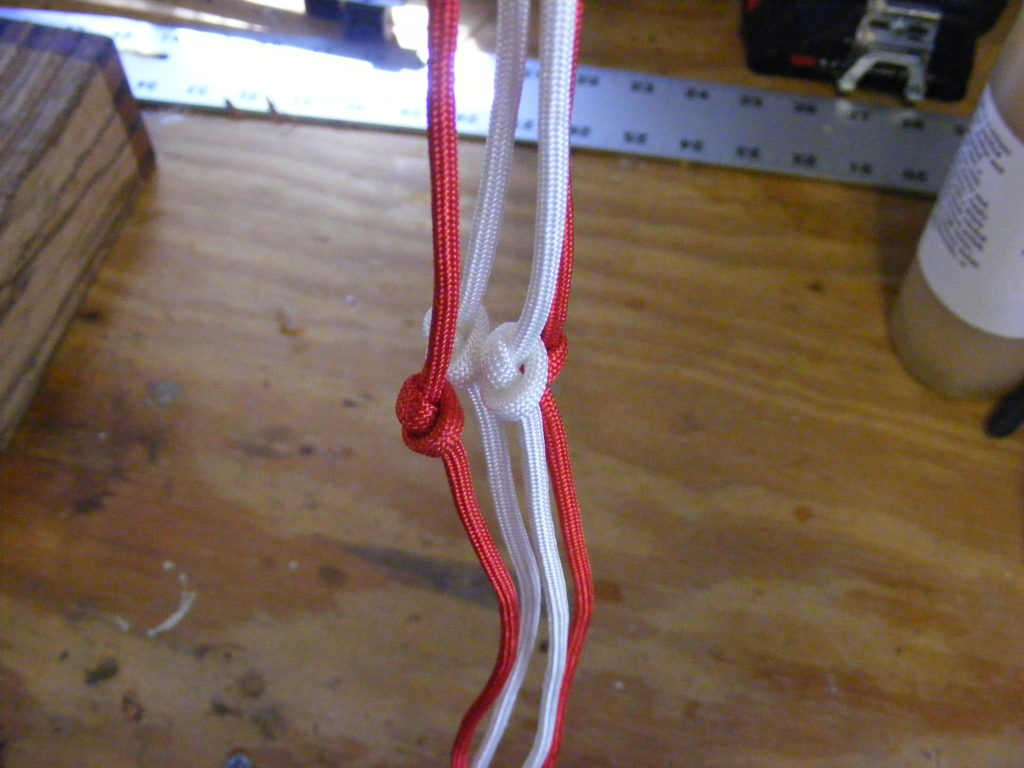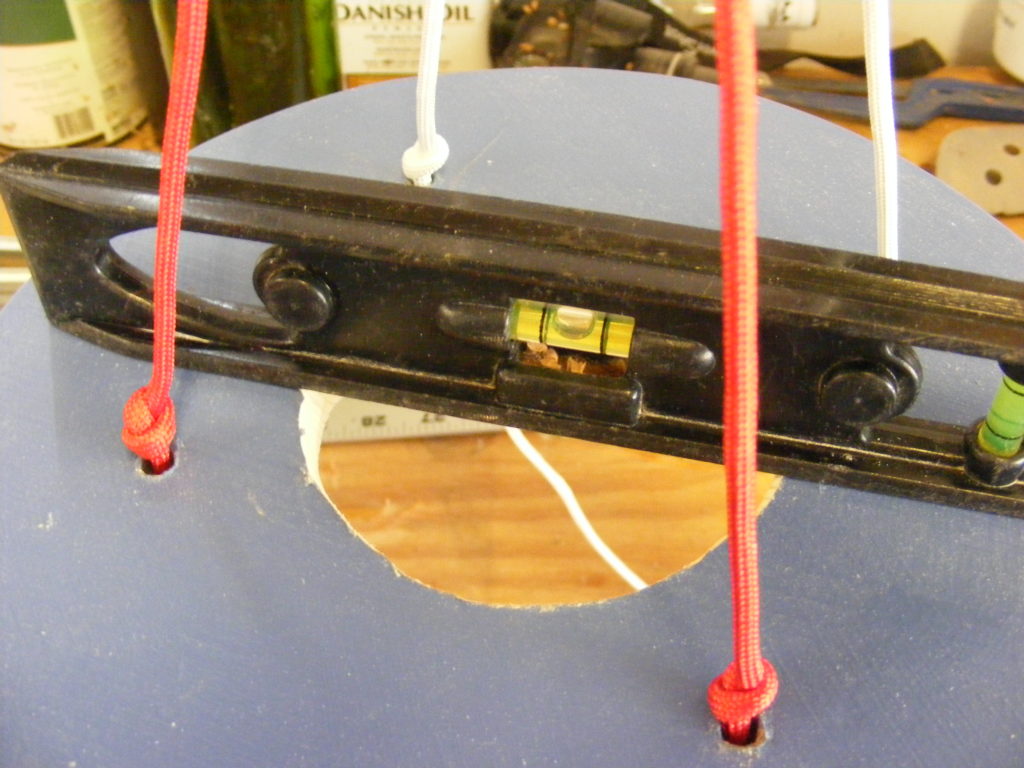 Step 8 — Once I completed step 7, I clipped the carabiner onto something above my workbench. Then I came down 8 to 10 inches from the bottom end of the 4 strand braid and tied 4 overhand knots equal distance from the 4 strand braid. Basically, the overhand knots serve as a stop knot, meaning they won't slip through the hole.
Next, I just fed the 4 strands of the paracord through the 4 holes in the boards. I used a small level to help me make adjustments. I had to shift my overhand knots up or down a bit to make each board level. I did this for all 3 boards, trying to keep them level and evenly spaced the whole time. I would also test fit the wine bottle a few times just to make sure I had it the way I wanted it.
Then I had the "light bulb on" idea to drill some holes through used wine corks and incorporate them by sliding them onto the paracord. This also helped the bird feeder be more rigid, especially the bottom section where the birds will light to get the seed. The downside of this great idea — I had to untie several of my knots and start over — HA.
I had about a foot or two of excess paracord coming out of the very bottom holes. I tied 4 overhand stopper knots to attach the bottom board. Then I brought the 4 strands together, tied one big overhand knot and trimmed the excess. If you want, you could probably find a great decorative knot somewhere online. At this point, I was all knotted out. But I believed it turned out okay. I was pleased with the finished result.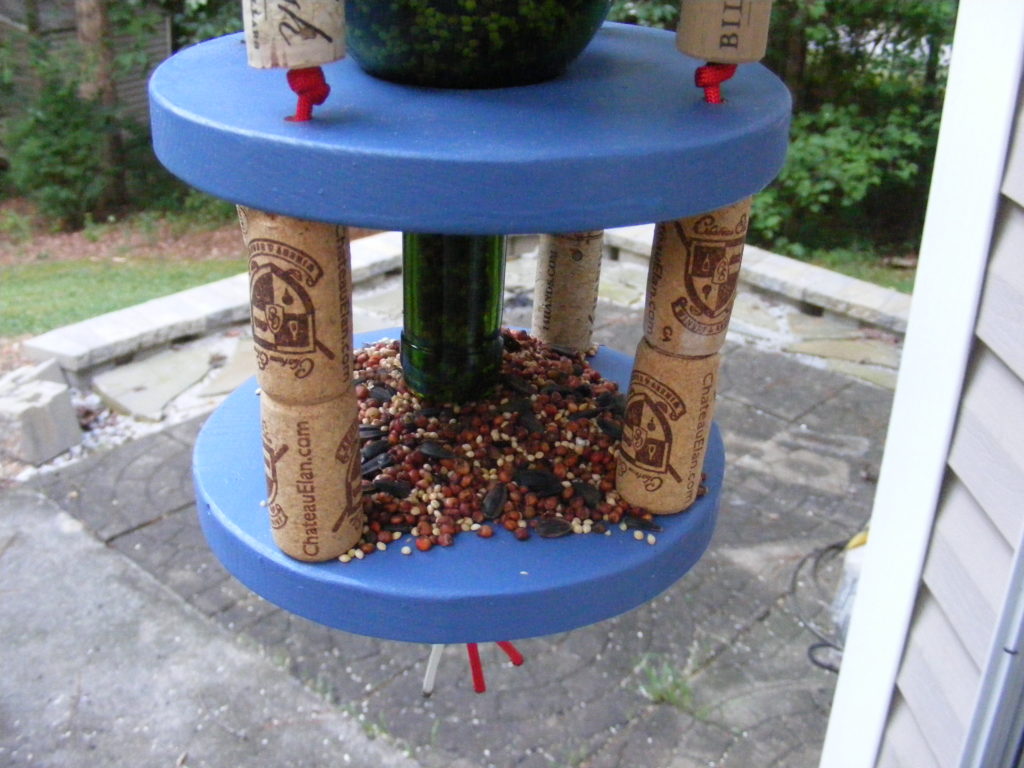 I hung my new paracord wine bottle bird feeder under an eave right next to our porch window. Birds started coming within minutes. I decided to get the smaller sized bird seed since I wasn't sure if the larger seed would stop up in the bottle. As a tip — get a small funnel to help you pour the seed into the wine bottle.
I hope you enjoyed this short tutorial. Feel free to leave comments or ask any questions if you need clarification on a step.
Please consider subscribing to my free email newsletter. I promise not to spam. You'll receive tutorials like this one in your inbox every so often. And — you get a copy of my free Home Shop Safety & Tool Checklist.