Each year my family and the in-laws go to Guntersville Alabama for the Eagle Awareness Weekend. It's held at Guntersville State Park and we learn about eagles, hawks, owls and various other critters. This past February, a group gave a talk about owls and they challenged the audience to put up screech owl boxes. In fact, they were selling screech owl box kits.
After examining the kits, I decided I could probably build one myself. And that's exactly what I did, and wallah, another craft tutorial—how to make a screech owl box.
Step 1
Make a choice on what wood to use. First off, you want to stay away from treated wood. I chose pine simply because I couldn't find cedar boards that were wide enough. But wood like cedar or cypress naturally resists rot and insect infestation. Pine will not last as long, but I did cover it with three layers of a latex primer paint. Cedar or cypress would not need paint.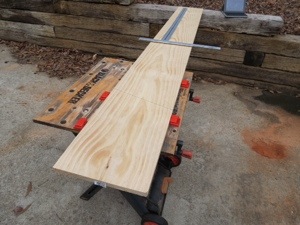 Step 2
Go get some plans. You can easily do an internet search and find a host of different plans. Some of the dimensions will vary, and I used the dimensions below.
Front board — 14.5 in by 8 in wide
Back board — 12 in wide by 26 in
Side boards (2) — 12 in wide by 18in (back edge) 15 in (front edge)
Bottom board — 8 in wide by 12 in
Top board — 12 in by 12 in
(With my dimensions, you can cut each piece of the owl box out of a 1 inch by 12 inch by 10 foot board.)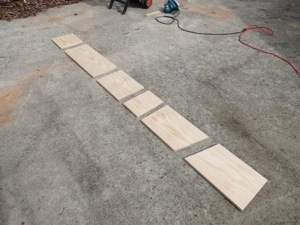 Step 3
Measure twice and cut once. I laid out the dimensions on the board and cut the pieces out with a circular saw.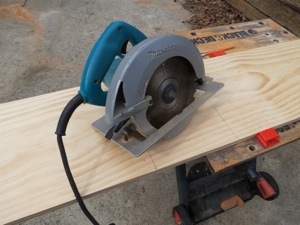 Step 4
Next, drill four 1/4 in drainage holes in the bottom board of the box.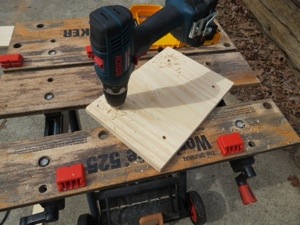 Step 5
The plans called for a 3 inch hole. I discovered that the inside diameter of a roll of duct tape is exactly 3 inches, so I used it to trace out the hole. The bottom of the hole comes up 9 inches from the bottom of the front board. Using a saber saw, I cut out the hole. Also, note the 3 — 3/8 in vent holes I drilled above the 3 inch hole.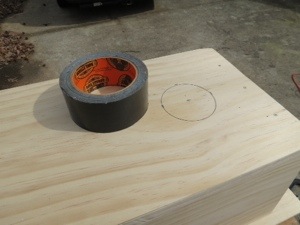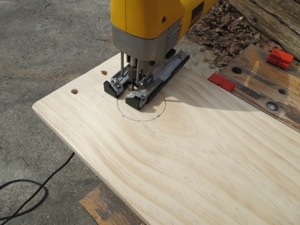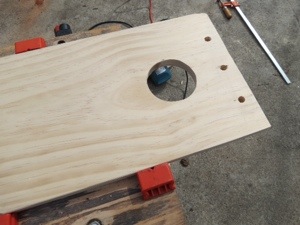 Step 6
I used 2 inch deck screws to put the box together. You could use wood glue also for added strength.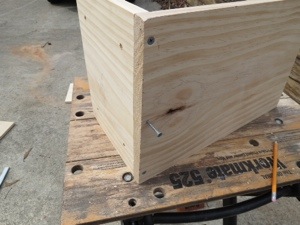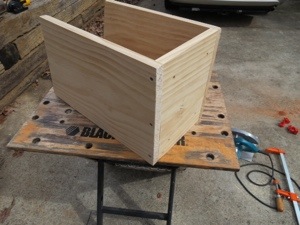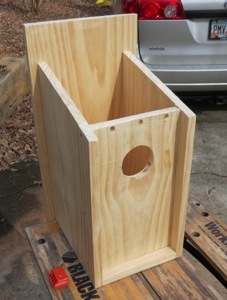 Note in the picture above that I've brought the front board in 1.5 inches.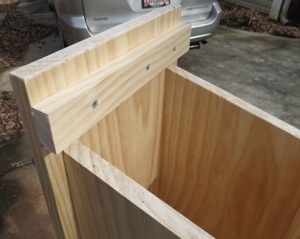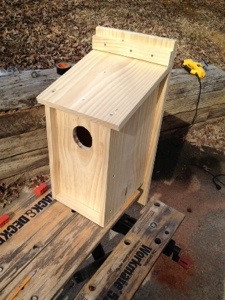 Step 7
Since I used pine for my box, I decided to paint it. I used what I had on hand so I chose a gray primer paint for the base layers and topped it off with some green spray paint. I put on three layers of the gray primer. This is latex based.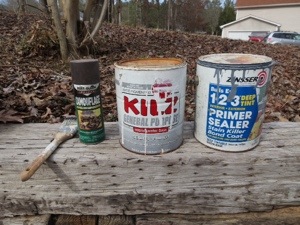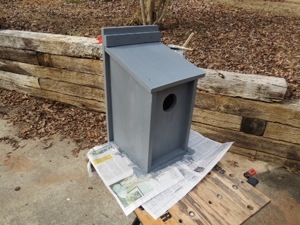 Step 8
To finish the screech owl box, I created some simple stencils that match white oak leaves. Then I used the green spray paint to make the leaf patterns on the box. This and the color combination should help to camouflage the bird house when I mount it to an oak tree.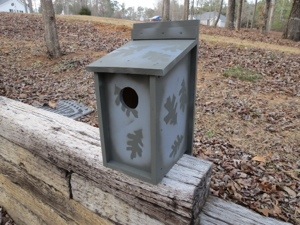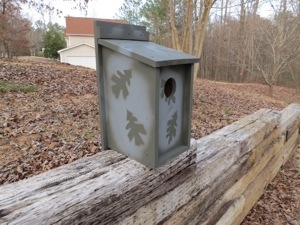 Mount the screech owl box on a clean, solid tree. Place a couple handfuls of pine shavings or dry leaves into the box for nesting material. Based on the literature I've read, they recommend mounting these about 15 feet high. But I say mount them at the height you feel safest or have an experienced person hang the box for you. Mount it in a spot that is easily observable, but not too close to travel ways, play areas, or your house.
And finally, here is a picture of the critter we are trying to attract. Cute, aren't they? This is a very small owl and you can read more about them at this link.